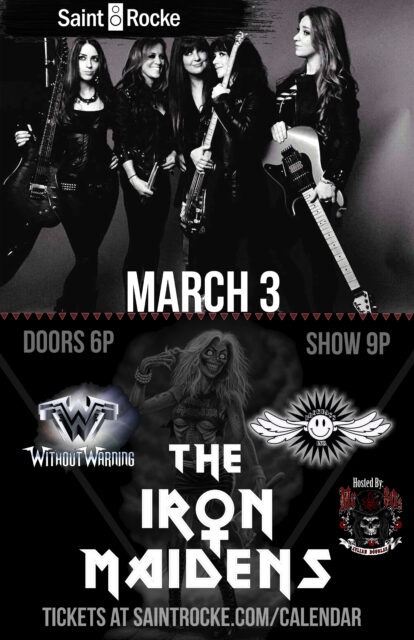 Saint Rocke presents, as "Mr. 80's"… Julian Douglas, is proud to welcome to the South Bay on SATURDAY, MARCH 3rd, 2018…
THE IRON MAIDENS
The World's only All-Female tribute to IRON MAIDEN, let alone the most rocking tribute over all the boys!!!
With Special Guests:
WITHOUT WARNING
BROKE ASS INC
Hosted by yours truly, Julian Douglas, aka "DJ Mr. 80's" spinning those 80's Hard Rock hits all night long.
Tickets are only $15.00 at:
https://www.saintrocke.com/event/1569041-iron-maidens-worlds-only-hermosa-beach/
SAINT ROCKE
142 Pacific Coast Highway
Hermosa Beach, CA 90254. (310) 372-0035.
www.SaintRocke.com
Doors open at 6:00 PM. Show at 9:00 PM. 21 and over.
I hope you join us for this Killer night of music & fun,
🙂 "Mr. 80's"… Julian Douglas.
________________________________________________________
*** Totally Awesome Upcoming Shows ***
SATURDAY, MARCH 10th, 2018 – THE SPAZMATICS (New Wave 80's tribute)
SATURDAY, MARCH 17th, 2018 – ST. PATRICK'S DAY PARTY feat. HOLLYWOOD U2 (tribute to U2) & THE FURS (tribute to The Psychedelic Furs)
FRIDAY, MARCH 30th, 2018 – WILD CHILD (tribute to Jim Morrison & The Doors)
SATURDAY, APRIL 14th, 2018 – THE SPAZMATICS (New Wave 80's tribute)
SATURDAY, APRIL 21st, 2018 – MUSTACHE HARBOR – Yacht Rock Explosion
SUNDAY, APRIL 22nd, 2018 – KING'S X
SATURDAY, MAY 12th, 2018 – THE SPAZMATICS (New Wave 80's tribute) & BLAZING DUELING PIANOS (Dueling Pianos feat Scott Doyle & Tim Butterworth)
FRIDAY, MAY 18th, 2018 – LED ZEPAGAIN (tribute to Led Zeppelin)
SATURDAY, MAY 26th, 2018 – MISSING PERSONS (featuring Dale Bozzio) & BOW WOW WOW
SATURDAY, JUNE 9th, 2018 – THE SPAZMATICS (New Wave 80's tribute)
SATURDAY, JUNE 16th, 2018 – JACK RUSSELL'S GREAT WHITE
SATURDAY, JUNE 23rd, 2018 – EROTIC CITY (tribute to Prince)