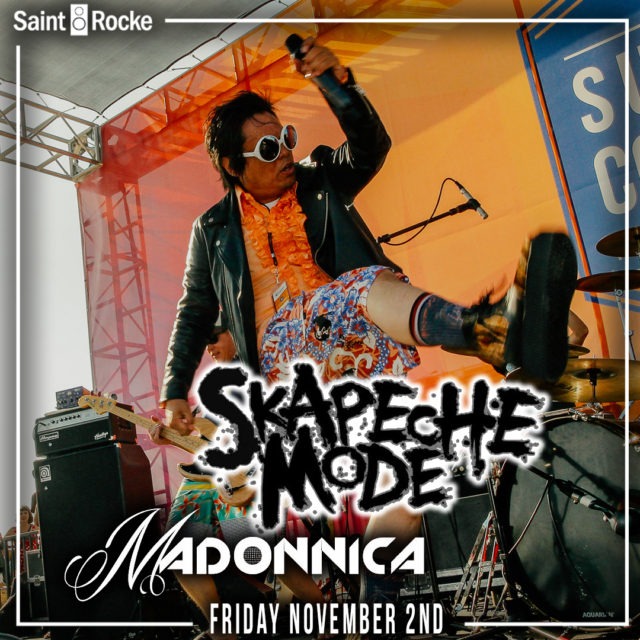 *** WIN FREE TICKETS (See Below For Details) ***
Saint Rocke presents, as "Mr. 80's"… Julian Douglas, is proud to welcome back to the South Bay this FRIDAY, NOVEMBER 2nd, 2018…
"FLASHBACK FRIDAY"
Featuring:
SKAPECHE MODE
Committed to ruining the 80's and Ska, one show at a time !!!
With Special Guests:
MADONNICA
The World's first and only Hard-Rock Tribute to MADONNA.
A FLOCK OF COUGARS
A Rock and New Wave 80's cover band.
Hosted by yours truly Julian Douglas, aka "DJ Mr. 80's", spinning those 80's Flashback Favorites all night long.
RSVP For FREE TICKETS !!!
It's "Friends Appreciation Weekend", so just RSVP to be placed on "Mr. 80's" VIP FREE Guest List.
Otherwise, tickets are $10 at…
https://www.saintrocke.com/event/8635385/skapeche-mode-madonnica-a-flock-of-cougars/
SAINT ROCKE
142 Pacific Coast Highway
Hermosa Beach, CA 90254. (310) 372-0035.
www.SaintRocke.com
Doors open at 6:00 PM for Happy Hour. Music at 7:30 PM. 21 and over.
I hope you join us for this Totally Awesome night of music & fun,
🙂 "Mr. 80's"… Julian Douglas.
______________________________________________________
*** Totally Awesome Upcoming Shows ***
SATURDAY, NOVEMBER 3rd, 2018 – HOLLYWOOD ROSES (a tribute to Guns 'N Roses), LIKE ZEPPELIN (a tribute to Led Zeppelin) & 2 HOT 2 HANDLE (an all-female tribute to UFO)
SATURDAY, NOVEMBER 17th, 2018 – THE SPAZMATICS (New Wave 80's tribute)
SATURDAY, NOVEMBER 24th, 2018 – DSB (America's favorite tribute to Journey) & ULTIMATE ADAMS (a tribute to Bryan Adams)
SATURDAY, DECEMBER 1st, 2018 – INXS-IVE (a tribute to INXS) & REMitation (a tribute to R.E.M.)
SATURDAY, DECEMBER 8th, 2018 – YACHTLEY CRUE (Southern Cal's biggest Yacht Rock tribute)
SUNDAY, DECEMBER 16th. 2018 – GARY HO HO HOEY
SATURDAY, DECEMBER 29th, 2018 – MARTHA DAVIS & THE MOTELS
FRIDAY, JANUARY 4th, 2019 – HOLLYWOOD U2 (a tribute to U2)
SATURDAY, FEBRUARY 2nd, 2019 – THE SPAZMATICS (New Wave 80's tribute)