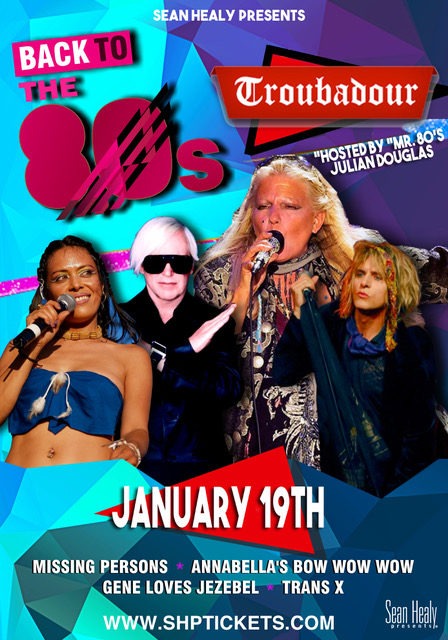 SEAN HEALY PRESENTS, as "Mr. 80's"… Julian Douglas, is proud to welcome to the TROUBADOUR on  SATURDAY, JANUARY 19th, 2019…
"BACK TO THE 80'S" with:
MISSING PERSONS
Featuring DALE BOZZIO.
DALE BOZZIO and MISSING PERSONS will be performing all their Greatest Hits… "Walking In L.A.", "Words", "Destination Unknown", "Mental Hopscotch", "Windows", "Give", "Right Now", "I Like Boys", "Noticeable Ones", "It Ain't None Of Your Business" and the list goes on.
ANNABELLA'S BOW WOW WOW
Featuring original lead singer ANNABELLA LWIN.
Performing their smash hits… "I Want Candy", "Do You Wanna Hold Me?", "Baby, Oh No", "Aphrodisiac", "Go Wild In The Country", "W.O.R.K.", "C30, C60, C90 Go" and more.
GENE LOVES JEZEBEL
Featuring MICHAEL ASTON.
GENE LOVES JEZEBEL were a staple on MTV and radio during the 1980's and early 1990's, collecting 10 songs that made Billboard's Hot 100, "Desire (Come and Get It)", "Heartache", "The Motion Of Love", "Jealous", "Twenty Killer Hurts", "Gorgeous", "Sweetest Thing", "Suspicion", "Kiss Of Life" and "Upstairs". Here some of those hits and many more!
TRANS-X
Performing their Dance-Club hit "Living On Video" and more.
Hosted By:
Yours truly "Mr. 80's"… Julian Douglas, spinning the hottest 80's "Flashback Favorites", New Wave Hits all night long !!!
Advance Tickets are only $28.50, VIP $40.00 and available at:
https://shptickets.com/event-details/8735145/back-to-the-80-s-with-missing-persons-annabella-s-bow-wow-wow-gene-loves-gezebel-and-static-x-/
(This show will sell out, so I will have no discounts or guest list.)
TROUBADOUR
9081 Santa Monica Blvd
West Hollywood, CA 90069. 310-276-1158
www.Troubadour.com
Doors open at 8:00 PM. All Ages Show.
www.SHPTickets.com 
I hope you join us for this Totally Awesome night of music & fun,
🙂 "Mr. 80's"… Julian Douglas.