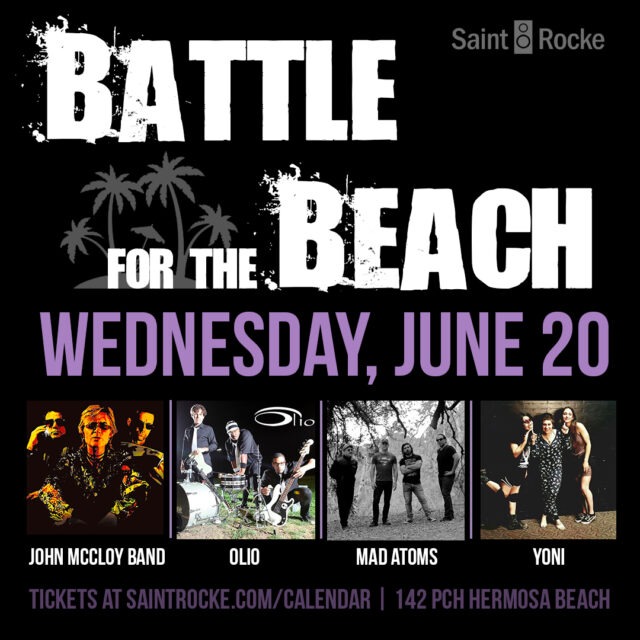 Saint Rocke presents, as "Mr. 80's"… Julian Douglas, is proud to welcome back to the South Bay on WEDNESDAY, JUNE 20th, 2018…
"BATTLE FOR THE BEACH" – Round 1, Day 3
The third and last night of regular competition is here…
It's the 2018 Battle For The Hermosa Beach Summer Concert Series, where local bands compete each week for the chance to perform in front of over 10,000 people.
So here's your chance to help out by not only supporting live music but deciding on who goes to the Finals and then Wins!
Featuring:
JOHN McCLOY BAND
OLIO
MAD ATOMS
YONI
Hosted by yours truly Julian Douglas.
Tickets are ONLY $5.00 and available at:
https://www.ticketfly.com/purchase/event/1701215?utm_medium=api
SAINT ROCKE
142 Pacific Coast Highway
Hermosa Beach, CA 90254. (310) 372-0035.
www.SaintRocke.com
Doors open at 6:00 PM. Show at 7:30 PM. 21 and over.
I hope you join us for this great night of music,
🙂 "Mr. 80's"… Julian Douglas.
__________________________ __________________________
*** Totally Awesome Upcoming Shows ***
THURSDAY, JUNE 21st, 2018 – THE UNTOUCHABLES & WHEN IN ROME II
SATURDAY, JUNE 23rd, 2018 – EROTIC CITY (a tribute to Prince)
THURSDAY, JULY 5th, 2018 – FASTER PUSSYCAT & DON JAMIESON
SATURDAY, JULY 7th, 2018 – THE ATOMIC PUNKS (a tribute to early Van Halen), MADONNICA (a hard rock tribute to Madonna) & 2 HOT 2 HANDLE (an all-female tribute to UFO)
FRIDAY, JULY 13th, 2018 – WILD CHILD (a Celebration to Jim Morrison & The Doors)
SATURDAY, JULY 14th, 2018 – THE SPAZMATICS (New Wave 80's tribute)
THURSDAY, AUGUST 9th, 2018 – GEOFF TATE'S (formerly of Queensryche) 30th  ANNIVERSARY of OPERATION: MINDCRIME
FRIDAY, AUGUST 10th, 2018 – "ELVIS vs ELVISS" feat: GRACEBAND and ELVISS SIMMONS & THE MEMPHIS STRUTTERS
SATURDAY, AUGUST 11th, 2018 – MUSTACHE HARBOR – Yacht Rock Explosion
SATURDAY, AUGUST 18th, 2018 – THE SPAZMATICS (New Wave 80's tribute)
SATURDAY, AUGUST 25th, 2018 – LED ZEPAGAIN (a tribute to Led Zeppelin)
SATURDAY, SEPTEMBER 15th, 2018 – THE SPAZMATICS (New Wave 80's tribute)