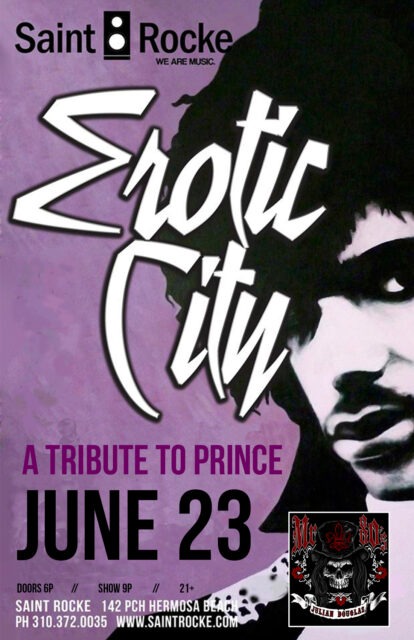 Saint Rocke presents, as "Mr. 80's"… Julian Douglas, is proud to welcome back to the South Bay this SATURDAY, JUNE 23rd, 2018…
EROTIC CITY
The Ultimate Tribute to PRINCE featuring JULIAN STEFONI.
For the last 20 years, JULIAN STEFONI has been paying tribute to his Purple Majesty. Being multi-talented, playing guitar, keyboards, singing and dancing/performing, being backed by some funky musicians, EROTIC CITY features classic PRINCE songs from his ultimate collection.
With a complete live stage show, when its time to party like its 1999, EROTIC CITY doesn't hold back with the high heels, the lace pants, the 'infamous' purple coat, and all of the sexiness you will get in a PRINCE show. If you're ever in need of you purple fix, EROTIC CITY will definitely show up in a Little Red Corvette with Darling Nikki and create some Controversy in the afterworld. 'Dearly beloved, we are gathered here today to get through this thing called life.' Let's Go Crazy with EROTIC CITY.
With Special Guests:
KITTY IN PINK
Hosted by yours truly Julian Douglas, aka "DJ Mr. 80's", spinning those 80's Flashback Favorites all night long.
Tickets are $20.00 and available at:
https://www.ticketfly.com/purchase/event/1643906?utm_medium=api
(This show will Sell Out by show time so I will have no discounts or guest lists for this show.)
SAINT ROCKE
142 Pacific Coast Highway
Hermosa Beach, CA 90254. (310) 372-0035.
www.SaintRocke.com
Doors open at 8:00 PM. Show at 9:00 PM. 21 and over.
I hope you join us for this Totally Awesome night of fun,
🙂 "Mr. 80's"… Julian Douglas.
__________________________ __________________________
*** Totally Awesome Upcoming Shows ***
THURSDAY, JULY 5th, 2018 – FASTER PUSSYCAT & DON JAMIESON
SATURDAY, JULY 7th, 2018 – THE ATOMIC PUNKS (a tribute to early Van Halen), MADONNICA (a hard rock tribute to Madonna) & 2 HOT 2 HANDLE (an all-female tribute to UFO)
FRIDAY, JULY 13th, 2018 – WILD CHILD (a Celebration to Jim Morrison & The Doors)
SATURDAY, JULY 14th, 2018 – THE SPAZMATICS (New Wave 80's tribute)
THURSDAY, AUGUST 9th, 2018 – GEOFF TATE'S (formerly of Queensryche) 30th  ANNIVERSARY of OPERATION: MINDCRIME
FRIDAY, AUGUST 10th, 2018 – "ELVIS vs ELVISS" feat: GRACEBAND and ELVISS SIMMONS & THE MEMPHIS STRUTTERS
SATURDAY, AUGUST 11th, 2018 – MUSTACHE HARBOR – Yacht Rock Explosion
SATURDAY, AUGUST 18th, 2018 – THE SPAZMATICS (New Wave 80's tribute)
SATURDAY, AUGUST 25th, 2018 – LED ZEPAGAIN (a tribute to Led Zeppelin)
SATURDAY, SEPTEMBER 15th, 2018 – THE SPAZMATICS (New Wave 80's tribute)