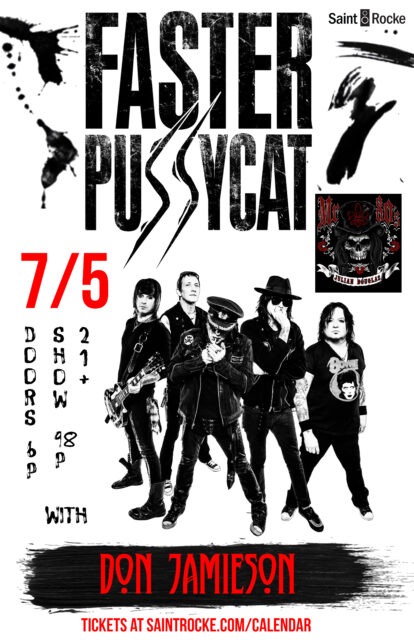 *** WIN FREE TICKETS (See Below For Details)
Saint Rocke presents, as "Mr. 80's"… Julian Douglas, is proud to welcome back to SAINT ROCKE on THURSDAY, JULY 5th, 2018…
FASTER PUSSYCAT
Featuring: TAIME DOWNE, DANNY NORDAHL, XRISTIAN SIMON, CHAD STEWART and ACE VAN JOHNSON.
No band epitomizes Hollywood sleaze more than FASTER PUSSYCAT. Countless bands have adopted their look & sound trying to ride their wave since they started on the Sunset Strip back in 1985, but only FASTER PUSSYCAT has owned it as they have. From the days of ruling the airwaves & MTV to touring with Guns N' Roses, Motley Crue, Kiss, Alice Cooper, Motorhead & more, FASTER PUSSYCAT has always shown they've owned it their way.
FASTER PUSSYCAT will be performing all their Greatest Hits of the past 30 plus years… "Poison Ivy", "House Of Pain", "Bathroom Wall", "You're So Vain", "Cathouse", "Slip Of The Tongue", "Nonstop To Nowhere", "Where There's A Whip, There's A Way", "Babylon", "Don't Change That Song" and the list goes on.
With Special Guests:
DON JAMIESON,
BOURBON SAINTS & DORIAN STEEL
Hosted by yours truly, Julian Douglas, aka "DJ Mr. 80's", spinning those 80's Pure Rock Hits all night long.
*** 1st Person to RSVP to THIS post Wins 1 Pair of FREE Tickets ***
Tickets are ONLY $18.00 and available at:
https://www.saintrocke.com/event/1662563-faster-pussycat-hermosa-beach/
(This show is due to Sell Out by show time, so get your tickets in advance. I will have no Guest List or discounts for this show.)
SAINT ROCKE
142 Pacific Coast Highway
Hermosa Beach, CA 90254. (310) 372-0035.
www.SaintRocke.com
Doors open at 6:00 PM for Happy Hour. Show at 8:00 PM. 21 and over.
I hope you join us for this Killer night of music,
🙂 "Mr. 80's"… Julian Douglas.
__________________________ __________________________ __
*** Totally Awesome Upcoming Shows ***
SATURDAY, JULY 14th, 2018 – THE SPAZMATICS (New Wave 80's tribute)
SATURDAY, AUGUST 18th, 2018 – THE SPAZMATICS (New Wave 80's tribute)
SATURDAY, AUGUST 25th, 2018 – LED ZEPAGAIN (tribute to Led Zeppelin)
SATURDAY, SEPTEMBER 15th, 2018 – THE SPAZMATICS (New Wave 80's tribute)