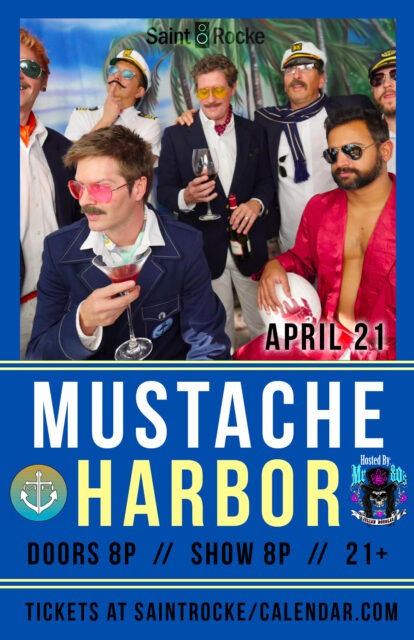 Saint Rocke presents, as "Mr. 80's"… Julian Douglas, is proud to welcome back to SAINT ROCKE on SATURDAY, APRIL 21st, 2018…
MUSTACHE HARBOR
The "Yacht Rock Explosion" straight from the City By The Bay !!!
The mission of MUSTACHE HARBOR is to create a "Soft Rock" aka "Yacht Rock"… EXPLOSION. The likes of which have not been seen since the days when Christopher Cross, Steely Dan, Ace, Kenny Loggins and The Little River Band created A.M. Gold.
Join them, Party with them, Live with them, Work Out at the Dojo with them, Sing with them, Slap on the 'stash and Drink from their bountiful coconuts filled with delicious grooves & tasty hooks.
It's time you experienced a Pina Colada with MUSTACHE HARBOR, the original Yacht Rock band and still the kings… so "Let's Ride" and "Get Ship Faced" !!!
With Special Guests:
T.B.A.
Hosted by "DJ YACHT ROCKE", spinning those Smooth & Sexy Hits of the 70's & 80's all night long.
Last show was SOLD OUT, so get your tix ASAP…
Tickets are ONLY $15.00 and available at:
https://www.saintrocke.com/event/1597935-mustache-harbor-yacht-rock-hermosa-beach/
(This show will Sell Out by show time, so I will have no discounts or guest lists for this show.)
SAINT ROCKE
142 Pacific Coast Highway
Hermosa Beach, CA 90254. (310) 372-0035.
www.SaintRocke.com
Doors open at 6:00 PM for Happy Hour. Show at 8:30 PM. 21 and over.
I hope you join us for this Totally Awesome night of fun,
🙂 "Mr. 80's"… Julian Douglas.
__________________________ __________________________ __
*** Totally Awesome Upcoming Shows ***
SUNDAY, APRIL 22nd, 2018 – KING'S X
SATURDAY, APRIL 28th, 2018 – THE PETTY BREAKERS (A Celebration of Tom Petty)
SATURDAY, MAY 12th, 2018 – THE SPAZMATICS (New Wave 80's tribute) & BLAZING DUELING PIANOS (Dueling Pianos feat Scott Doyle & Tim Butterworth)
SATURDAY, MAY 19th, 2018 – THE ENGLISH BEAT (featuring Dave Wakeling)
SATURDAY, MAY 26th, 2018 – MISSING PERSONS (featuring Dale Bozzio) & BOW WOW WOW
SATURDAY, JUNE 9th, 2018 – THE SPAZMATICS (New Wave 80's tribute)
SATURDAY, JUNE 16th, 2018 – JACK RUSSELL'S GREAT WHITE
SATURDAY, JUNE 23rd, 2018 – EROTIC CITY (a tribute to Prince)
THURSDAY, JULY 5th, 2018 – FASTER PUSSYCAT
SATURDAY, JULY 14th, 2018 – THE SPAZMATICS (New Wave 80's tribute)
SATURDAY, AUGUST 7th, 2018 – THE ATOMIC PUNKS (a tribute to early Van Halen)
THURSDAY, AUGUST 9th, 2018 – GEOFF TATE'S (formerly of Queensryche) 30th  ANNIVERSARY of OPERATION: MINDCRIME
SATURDAY, AUGUST 18th, 2018 – THE SPAZMATICS (New Wave 80's tribute)
SATURDAY, AUGUST 25th, 2018 – LED ZEPAGAIN (a tribute to Led Zeppelin)
SATURDAY, SEPTEMBER 15th, 2018 – THE SPAZMATICS (New Wave 80's tribute)