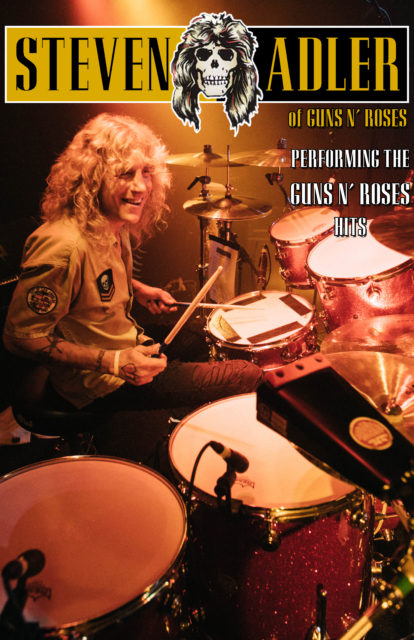 Saint Rocke presents, as "Mr. 80's"… Julian Douglas, is proud to welcome back to the South Bay this WEDNESDAY, DECEMBER 26th, 2018…
"TOTALLY WAYBACK WEDNESDAYS"
Featuring:
STEVEN ADLER
of GUNS N' ROSES
STEVEN ADLER, best known as the original drummer of "GUNS N' ROSES", one of the most influential, ground-breaking hard rock bands to emerge from the late-80's L.A. scene, has returned to pick up where he left off…
performing the Greatest Hits and fan favorites of GUNS N' ROSES with his All-Star band!
With Special Guests:
T.B.A.
Hosted by yours truly Julian Douglas, aka "DJ Mr. 80's", spinning those 80's Pure Rock hits all night long.
Tickets are only $25.00 at:
https://www.saintrocke.com/event/8899505/steven-adler-of-guns-n-roses/
SAINT ROCKE
142 Pacific Coast Highway
Hermosa Beach, CA 90254. (310) 372-0035.
www.SaintRocke.com
Doors open at 6:00 PM. Happy Hour from 6-8:00 PM. Show at 8:00 PM. 21 and over.
I hope you join us for this Totally Awesome night of music & fun,
🙂 "Mr. 80's"… Julian Douglas.
______________________________________________________
*** Totally Awesome Upcoming Shows ***
SATURDAY, NOVEMBER 17th, 2018 – THE SPAZMATICS (New Wave 80's tribute)
SATURDAY, NOVEMBER 24th, 2018 – DSB (America's favorite tribute to Journey) & ULTIMATE ADAMS (a tribute to Bryan Adams)
SATURDAY, DECEMBER 1st, 2018 – INXS-IVE (a tribute to INXS) & REMitation (a tribute to R.E.M.)
SATURDAY, DECEMBER 8th, 2018 – YACHTLEY CREW (Southern Cal's biggest Yacht Rock tribute)
SUNDAY, DECEMBER 16th. 2018 – GARY HO HO HOEY
WEDNESDAY, DECEMBER 26th, 2018 – "TOTALLY WAYBACK WEDNESDAYS" with STEVEN ADLER (of Guns 'N Roses)
SATURDAY, DECEMBER 29th, 2018 – MARTHA DAVIS & THE MOTELS
FRIDAY, JANUARY 4th, 2019 – HOLLYWOOD U2 (a tribute to U2)
SATURDAY, FEBRUARY 2nd, 2019 – THE SPAZMATICS (New Wave 80's tribute)