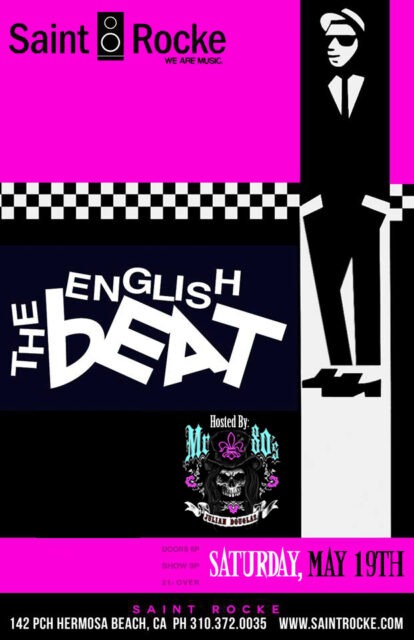 Saint Rocke presents, as "Mr. 80's"… Julian Douglas, is proud to welcome back to SAINT ROCKE on SATURDAY, MAY 19th, 2018…
THE ENGLISH BEAT
The original Kings of Ska & pioneers of MTV are back, featuring the one & only DAVE WAKELING, as they celebrate over 35 years of making incredible music. Since the release of their 1st album in 1980 back in England, THE ENGLISH BEAT, better known then as THE BEAT, fused ska, pop, soul, reggae and punk rock, creating a sound that would take them to the US & around the world and put their stamp on history.
They will be performing the legendary hits of THE ENGLISH BEAT as well as of GENERAL PUBLIC, the ultimate MTV staples of the 80's like… "Save It For Later", "Mirror In The Bathroom", "I Confess", "Tenderness", "I'll Take You There", "Tears Of A Clown", "Twist And Crawl", "Never You Done That", "Hot Your Cool", "Best Friend", "Hands Off She's Mine", "Stand Down Margaret", and more in this rare & intimate show.
With Special Guests:
T.B.A.
Hosted by Julian Douglas, aka "DJ Mr. 80's" spinning those 80's Flashback favorites all night long.
Tickets are $30.00 in advance at:
https://www.saintrocke.com/event/1642546-english-beat-hermosa-beach/
Tickets are $35.00 the night of the show if not Sold Out. However the past few shows have been Sold Out in advance, so I will not have a guest list, nor a discount list.
SAINT ROCKE
142 Pacific Coast Highway
Hermosa Beach, CA 90254. (310) 372-0035.
www.SaintRocke.com
Doors open at 6:00 PM for Happy Hour. Show at 8:30 PM. 21 and over.
I hope you join us for this Totally Awesome night of fun,
🙂 "Mr. 80's"… Julian Douglas.
__________________________ __________________________ __
*** Totally Awesome Upcoming Shows ***
SATURDAY, MARCH 3rd, 2018 – THE IRON MAIDENS (all-female tribute to Iron Maiden)
SATURDAY, MARCH 10th, 2018 – THE SPAZMATICS (New Wave 80's tribute)
THURSDAY, MARCH 15th, 2018 – HI-FI SOUNDTRACK (tribute to The 80's) & SO RAD (90's tribute)
SATURDAY, MARCH 17th, 2018 – ST. PATRICK'S DAY PARTY feat. HOLLYWOOD U2 (tribute to U2) & THE FURS (tribute to The Psychedelic Furs)
WEDNESDAY, MARCH 21st, 2018 – "TOTALLY WAYBACK WEDNESDAYS" with  BLAZING DUELING PIANOS (Dueling Pianos feat Scott Doyle & Tim Butterworth)
FRIDAY, MARCH 30th, 2018 – WILD CHILD (tribute to Jim Morrison & The Doors)
SATURDAY, APRIL 14th, 2018 – THE SPAZMATICS (New Wave 80's tribute)
SATURDAY, APRIL 21st, 2018 – MUSTACHE HARBOR – Yacht Rock Explosion
SUNDAY, APRIL 22nd, 2018 – KING'S X
SATURDAY, APRIL 28th, 2018 – THE PETTY BREAKERS (A Celebration of Tom Petty)
SATURDAY, MAY 12th, 2018 – THE SPAZMATICS (New Wave 80's tribute) & BLAZING DUELING PIANOS (Dueling Pianos feat Scott Doyle & Tim Butterworth)
SATURDAY, MAY 19th, 2018 – THE ENGLISH BEAT (featuring Dave Wakeling)
SATURDAY, MAY 26th, 2018 – MISSING PERSONS (featuring Dale Bozzio) & BOW WOW WOW
SATURDAY, JUNE 9th, 2018 – THE SPAZMATICS (New Wave 80's tribute)
SATURDAY, JUNE 16th, 2018 – JACK RUSSELL'S GREAT WHITE
SATURDAY, JUNE 23rd, 2018 – EROTIC CITY (tribute to Prince)
SATURDAY, AUGUST 25th, 2018 – LED ZEPAGAIN (tribute to Led Zeppelin)