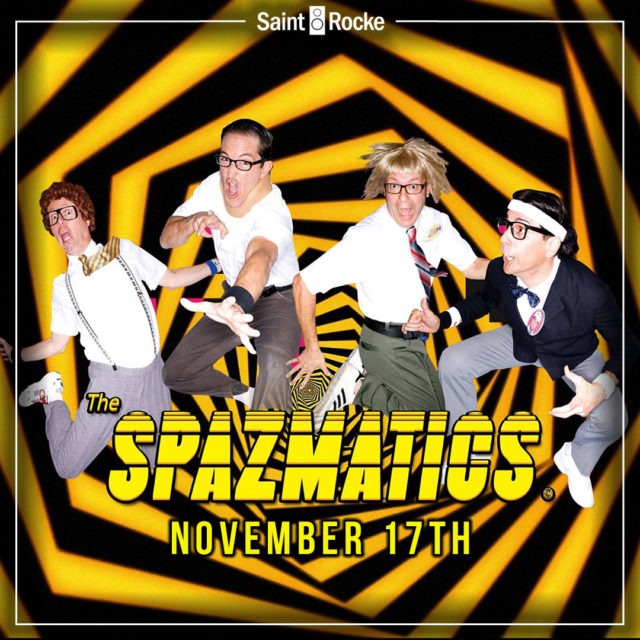 Saint Rocke presents, as "Mr. 80's"… Julian Douglas, is proud to welcome back to the South Bay this SATURDAY, NOVEMBER 17th, 2018…
THE SPAZMATICS
It's like the Revenge of the Nerds once again !!!
The Ultimate New Wave 80's.
Who says NERDS don't rock? If you're a fan of 80's music, then pull out those parachute pants, grab your pocket protector and get ready for the most Radical 80's New Wave show in the world !!! THE SPAZMATICS bring you back to the days of rollerskating and lip-synching using your hairbrush as a microphone, performing all your favorite hits of the 80's !!!
With Special Guests:
REVOLVER
South Bay local cover rock band playing great songs from even greater bands.
Hosted by yours truly Julian Douglas, aka "DJ Mr. 80's", spinning those 80's Flashback Favorites all night long.
Tickets are only $15.00 at:
https://www.saintrocke.com/event/8458755/the-spazmatics-revolver/
SAINT ROCKE
142 Pacific Coast Highway
Hermosa Beach, CA 90254. (310) 372-0035.
www.SaintRocke.com
Doors open at 8:30 PM. Music at 9:00 PM. 21 and over.
I hope you join us for this Totally Awesome night of music & fun,
🙂 "Mr. 80's"… Julian Douglas.
______________________________________________________
*** Totally Awesome Upcoming Shows ***
SATURDAY, NOVEMBER 17th, 2018 – THE SPAZMATICS (New Wave 80's tribute)
SUNDAY, NOVEMBER 18th, 2018 – "MR. 80's & MIMOSAS" Sunday Funday afternoon with 80's AIRWAVES (80's tribute)
SATURDAY, NOVEMBER 24th, 2018 – DSB (America's favorite tribute to Journey) & ULTIMATE ADAMS (a tribute to Bryan Adams)
SATURDAY, DECEMBER 1st, 2018 – INXS-IVE (a tribute to INXS) & REMitation (a tribute to R.E.M.)
SATURDAY, DECEMBER 8th, 2018 – YACHTLEY CREW (Southern Cal's biggest Yacht Rock tribute)
SUNDAY, DECEMBER 16th. 2018 – GARY HO HO HOEY
WEDNESDAY, DECEMBER 26th, 2018 – "TOTALLY WAYBACK WEDNESDAYS" with STEVEN ADLER (of Guns 'N Roses)
SATURDAY, DECEMBER 29th, 2018 – MARTHA DAVIS & THE MOTELS
FRIDAY, JANUARY 4th, 2019 – HOLLYWOOD U2 (a tribute to U2)
SATURDAY, FEBRUARY 2nd, 2019 – THE SPAZMATICS (New Wave 80's tribute)