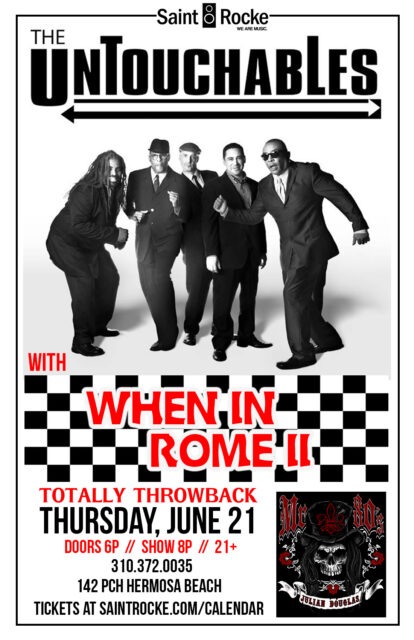 *** WIN 1 PAIR OF FREE TICKETS (See Below For Details) ***
Saint Rocke presents, as "Mr. 80's"… Julian Douglas, is proud to welcome back to the South Bay on THURSDAY, JUNE 21st, 2018…
"TOTALLY THROWBACK THURSDAYS" with…
THE UNTOUCHABLES
Featuring original members JERRY MILLER & CHUCK ASKERNEESE.
LA's own, those fun-loving Mods THE UNTOUCHABLES, were America's first Ska band!
Still going strong, they'll be performing all their greatest hits from MTV, VH1, and radio, including "Free Yourself", "What's Gone Wrong", "I Spy", "Wild Child", "Be Alright", "Mandingo" and the list goes on.
With Special Guests:
WHEN IN ROME II
Featuring MICHAEL FLOREALE.
Performing their hits "The Promise", "Heaven Knows" and more.
Hosted by yours truly, Julian Douglas aka "DJ Mr. 80's", spinning those 80's Flashback Favorites all night long.
*** The First 5 people to RSVP Win 1 Pair of FREE TICKETS ***
Otherwise, tickets are only $15.00 at:
https://www.ticketfly.com/purchase/event/1699548?utm_medium=api
SAINT ROCKE
142 Pacific Coast Highway
Hermosa Beach, CA 90254. (310) 372-0035.
www.SaintRocke.com
Doors open at 6:00 PM for Happy Hour. Show at 8:00 PM. 21 and over.
I hope you join us for this Totally Awesome night of music & fun,
🙂 "Mr. 80's"… Julian Douglas.
__________________________ __________________________ __
*** Totally Awesome Upcoming Shows ***
SATURDAY, JUNE 16th, 2018 – JACK RUSSELL'S GREAT WHITE
WEDNESDAY, JUNE 20th, 2018 – BATTLE FOR THE BEACH – Round 1, Day 3
THURSDAY, JUNE 21st, 2018 – THE UNTOUCHABLES & WHEN IN ROME II
SATURDAY, JUNE 23rd, 2018 – EROTIC CITY (a tribute to Prince)
THURSDAY, JULY 5th, 2018 – FASTER PUSSYCAT & DON JAMIESON
SATURDAY, JULY 7th, 2018 – THE ATOMIC PUNKS (a tribute to early Van Halen), MADONNICA (a hard rock tribute to Madonna) & 2 HOT 2 HANDLE (an all-female tribute to UFO)
FRIDAY, JULY 13th, 2018 – WILD CHILD (a Celebration to Jim Morrison & The Doors)
SATURDAY, JULY 14th, 2018 – THE SPAZMATICS (New Wave 80's tribute)
THURSDAY, AUGUST 9th, 2018 – GEOFF TATE'S (formerly of Queensryche) 30th  ANNIVERSARY of OPERATION: MINDCRIME
FRIDAY, AUGUST 10th, 2018 – "ELVIS vs ELVISS" feat: GRACEBAND and ELVISS SIMMONS & THE MEMPHIS STRUTTERS
SATURDAY, AUGUST 11th, 2018 – MUSTACHE HARBOR – Yacht Rock Explosion
SATURDAY, AUGUST 18th, 2018 – THE SPAZMATICS (New Wave 80's tribute)
SATURDAY, AUGUST 25th, 2018 – LED ZEPAGAIN (a tribute to Led Zeppelin)
SATURDAY, SEPTEMBER 15th, 2018 – THE SPAZMATICS (New Wave 80's tribute)