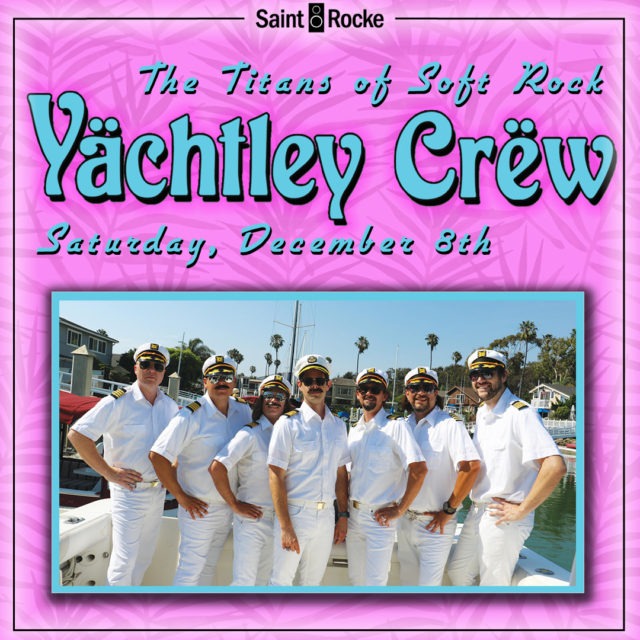 Saint Rocke presents, as "Mr. 80's"… Julian Douglas, is proud to welcome to the South Bay this SATURDAY, DECEMBER 8th, 2018…
YACHTLEY CREW
"The Titans Of Soft Rock"
Come Sail Away and celebrate the Smoothest Sounds of the 70's & 80's with YACHTLEY CREW, Southern California's #1 Yacht Rock band for another hit Saint Rocke "Yacht Rock Party".
With Special Guests:
TAPE
Yacht Rock attire encouraged.
Hosted by yours truly Julian Douglas, aka "DJ YACHT ROCKE", spinning those Smooth & Sexy Hits of the 70's & 80's all night long.
Tickets are ONLY $15.00 and available at:
https://www.saintrocke.com/event/8848095/yachtley-crew-tape/
SAINT ROCKE
142 Pacific Coast Highway
Hermosa Beach, CA 90254. (310) 372-0035.
www.SaintRocke.com
Doors open at 6:00 PM. Show starts at 8:00 PM. 21 and over.
I hope you join us for this Totally Awesome evening of music & fun,
🙂 "Mr. 80's"… Julian Douglas.
______________________________________________________
*** Totally Awesome Upcoming Shows ***
SUNDAY, DECEMBER 16th. 2018 – GARY HO HO HOEY
WEDNESDAY, DECEMBER 19th, 2018 – "TOTALLY WAYBACK WEDNESDAYS" with DUELING PIANOS (featuring Scott Doyle)
WEDNESDAY, DECEMBER 26th, 2018 – "TOTALLY WAYBACK WEDNESDAYS" with STEVEN ADLER (of Guns 'N Roses)
SATURDAY, DECEMBER 29th, 2018 – MARTHA DAVIS & THE MOTELS
FRIDAY, JANUARY 4th, 2019 – HOLLYWOOD U2 (a tribute to U2)
SATURDAY, JANUARY 12th, 2018 – WILD CHILD (a Celebration of Jim Morrison & The Doors)
SATURDAY, FEBRUARY 2nd, 2019 – THE SPAZMATICS (New Wave 80's tribute)