The 2021 Travel & Adventure Show and my best moments.
As I prepare for my third Travel & Adventure Show of 2022, I thought I would reflect on highlights from the 2021 Travel Shows I was a part of, even though it was a shortened season due to, well we all know why.
I can't tell you how excited I am to be appearing in every show this year. Except for their first in Chicago, I missed due to that show being rescheduled and it conflicted with my music calendar. Yet still, I traveled to Washington D.C. the weekend before last, Boston this past weekend and I'm here at home for the Los Angeles Travel Show this weekend as I write this.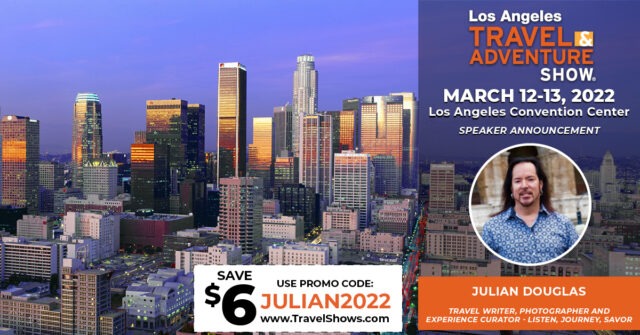 Then it's off to New York City the following weekend, then throughout the spring from the rest of March until the end of May. Including Dallas, Atlanta, Denver, and finally San Francisco. (I'll be sure to list all dates below.)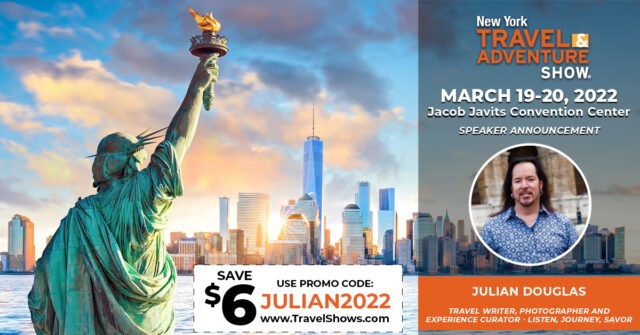 For those not actually familiar with the Travel & Adventure Show, it's the nation's largest travel trade show open to the public. You'll usually find hundreds of exhibitors from destinations around the globe, consisting of thousands of U.S. and worldwide travel experts. From foreign tourist bureaus, cruise lines, resorts, air & train transportation, private tours, guidebooks, apparel, luggage, and more. If it involves travel, it's here.
I've written about The Show in the past, so this time around I wanted to focus on those talented and inspiring featured speakers. From big-time celebrities to tourism representatives. I'm honored to be one of those "featured speakers" and Travel Experts. As a Travel Writer, Photographer, and Experience Curator, I'm excited to be back sharing my passion, Italy, and how Private Tours can change the way you travel, along with my fellow Travel Experts sharing their insight.
This past year the Travel & Adventure Show still managed to happen in three cities despite so much going on in the world and especially here in the States. We were in Dallas, Atlanta, and San Francisco/Bay Area. For me, it was simply amazing. Speaking to hundreds of people all there for their love of travel, and most importantly, me, inspiring them to not only travel but to think outside the box and experience how my wife and I love to travel, through Private Tours.
If I wasn't inspiring enough, to toot my own horn, my fellow Travel Experts surely were. Especially, some of the big celebrities. Travelers from both TV and movies, writers, and more. I will sit there listening to them share their incredible stories, and realize these are people I know thanks to the world of travel.
Just to name a few I had pinch me moments with, in Atlanta was none other than Andrew McCarty. Yes, most know him from his totally awesome, hit 80's movies like Pretty In Pink, Weekend At Bernie's, St. Elmo's Fire, Mannequin, and Less Than Zero to name a few. But these past years when not directing hit shows like Orange Is the New Black and The Blacklist, he's been traveling the globe, becoming the editor-at-large for National Geographic Traveler, and writing bestselling books. The Longest Way Home, Just Fly Away, and his latest success, Brat: An 80's Story. Which Andrew was kind enough to get me a copy of and special to me, sign it to "Mr. 80's… Our Time."
I knew Andrew back in the 80's, so all these decades later it's a privilege to renew our friendship and entertain these days, fans of travel. And his crowds at the Shows are filled with people on the edge of their seats listening to him.
One I had been waiting to still work alongside was explorer and archeologist, Josh Gates. That modern-day Indiana Jones, who hit TV shows on the Travel Channel, Discovery Channel, and SyFy, like Expedition: Unknown, Legendary Locations, Destination Truth, and more, have you in anticipation for him to hit the stage and talk. In San Francisco that finally happened for me. We met a while back, so getting the chance to spend time together and catch up, and talk about music and adventures, was absolutely priceless. I'm not the only one who lights up around him, as every seat was filled to watch him speak, along with a line lasting over 2 hours for his meet and greet after.
One of my good friends and original mentors in the travel industry was back, Samantha Brown. We reunited after a couple of years in Dallas and then in Atlanta. I could write about Sam forever, what her friendship has meant to me, and especially her guidance. She's had a dream travel career, between her journeys and television appearances. Most know her from her many years on the Travel Channel, with shows like Passport to Europe, Great Hotels, Girl Meets Hawaii, Great Weekends, and so many more. These days she just wrapped up the third season of her Emmy Award-winning show on PBS, Samantha Brown's Places to Love. She even has her own luggage line.
All this fame hasn't changed her. Her fans come in droves and wait forever to say thank you for inspiring them. And she'll thank them for coming out until the last one leaves.
This past year I was finally able to get to know another travel legend, Peter Greenberg, better known as the Travel Detective. One of the great, Emmy Award-winning journalists, he's the CBS News Travel Editor appearing on the CBS Morning Show and CBS Evening News. Before that, he did the same appearing on NBC's Today, CNBC and MSNBC. Going all the way back to ABC's Good Morning America as their Travel correspondent. His credits are endless, including his current show, The Royal Tour on PBS. This is a man who has stories to tell. Fascinating is an understatement. Sometimes I can't believe I'm just hanging out with this great man as I try to soak up all he has to say. And, how incredibly friendly he is to not only me but those who came out to see him in Dallas, Atlanta, and San Francisco.
Of course, I must mention not only another close friend but another mentor to me, the great Rudy Maxa. The original Savvy Traveler, known for decades on PBS, with hit shows like Smart Travels and Rudy Maxa's World. My wife and I have watched all of his, close to 100 episodes twice over.
I could listen to Rudy speak for hours, and thanks to our friendship, I have. And I'm not the only one who loves listening to him, as people of all ages sit in his crowds, just taking in what this icon has to say. It was great to be with Rudy in Dallas, Atlanta, and San Francisco, listening to his advice and information on the travel industry. His knowledge will always separate him from others. I could list his accolades, credits, and background, but it would fill pages.
Speaking of the Savvy Traveler, like those speakers I mentioned above, who are featured on the Travel Stage, I'm fortunate to be one of those who appear on the Savvy Traveler Stage as "The Private Tour Connoisseur" and even known as "The Private Tour Guy." Another close friend of mine and a Los Angeles local, that also packs them in is Sarah Dandashy.
Sarah is a travel expert, author, and TV personality with over 18 years of luxury hotel experience. It's where I first knew of her back at the L'ermitage Beverly Hills and London West Hollywood. From a career as an award-winning concierge, she's since traveled the globe, working with some of the leading brands in the travel industry. Known for her brand, "Ask A Concierge" throughout social media, you can catch her on the news breaking down the latest on travel, from Fox, ABC, CBS, NBC, and more. In her 5 years of speaking with the Travel & Adventure Show, it's no wonder she has a full crowd each time she hits the stage. Don't forget to grab a copy of her first book, "Hospitality from Within", now out and available on Amazon. What a wonderful treat being back together it was in San Francisco with her. Between the advice, she is always willing to share with me, and her inspiring insight into the industry, I'm always excited to see her.
There are so many other featured speakers, but I just wanted to give everyone an idea of a few of the caliber of travel experts that I appeared with and how fortunate I am to be inspiring people to travel along with them. I am not only so grateful I was at all 3 Travel & Adventure Shows this past year, but all this year in 2022. So here are all those upcoming Show dates and where you can see us all.
This weekend in my home of LA at the Los Angeles Convention Center on Saturday, March 12th and Sunday, March 13th.
Followed by New York City at the Javits Convention Center on Saturday, March 19th, and Sunday, March 20th.
Dallas at the Dallas Market Hall on Saturday, April 2nd, and Sunday, April 3rd.
Atlanta at the Cobb Galleria Centre on Saturday, April 23rd, and Sunday, April 24th.
Denver at the Colorado Convention Center on Saturday, April 30th, and Sunday, May 1st.
San Francisco/Bay Area at the Santa Clara Convention Center on Saturday, May 21st, and Sunday, May 22nd.
Facebook.com/TravelAndAdventureShow