United Rockers 4U "Japan Relief Concert"
Below is the first article I wrote for Rock 'N Roll Industries, a national hard rock based magazine, it's an ongoing column I still write, entitled "On The Scene with Mr. 80's." I was covering the United Rockers 4U benefit following the Japan Tsunami disaster.
"It's only fitting that my first official "On TheScene" article is not only filled with great rocking fun, but one that gives the opportunity for the rock & roll community to help a great cause. That's because I had the honor of being part of the United Rockers 4U Benefit for the American Red Cross Disaster Relief, held during the Holidays in December of 2011, located at the then new Hard Rock Cafe in Hollywood.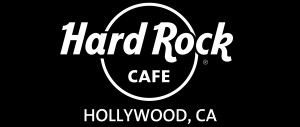 The event was put together by Terry Illous (lead singer of XYZ and now Great White), Jeff Paris (who's played with Ringo Starr, Dave Stewart & Cinderella, plus written for Lita Ford, Mr. Big, Y&T, John Waite, Vixen, Ace Frehley & more) and Peter Kalish. Terry had organized the "80's Rockers for Japan" Red Cross benefit back in April of 2011 at Harper's Bar & Grill and to grand success. That lead to the recording of the charity single "One Family", featuring an all-star cast including Eddie Money, Don Dokken, Bobby Kimbal (Toto), Robin McAuley (MSG/Survivor), Phil Lewis (L.A. Guns), Brian Tichy (Whitesnake/Foreigner/Billy Idol), Richie Kotzen (Poison/Mr. Big), Jimi Jamison (Survivor), Paul Shortino (Rough Cutt), Rudy Sarzo (Quiet Riot/Whitesnake), Robert Sarzo (Hurricane), Michael Thompson and of course Terry Illous and Jeff Paris.
What better way to celebrate the release of the single, help a worthy cause once again, enjoy the Holiday season and bring some of rocks great musicians together along with those who love their music, than to hold another benefit. You can see why it meant the world to yours truly, "Mr. 80's"… Julian Douglas, when I was called to host this event. Then after a few phone calls we had the perfect person to come in and host along with, none other than Phil Varone, drummer from Skid Row & Saigon Kick and recent star on VH-1. Phil and I have been friends for a while, so we knew not only would we have a lot of fun hosting this event, but knew we would be able to help raise a lot of money for the Red Cross.
The musical performances of the night consisted of two main parts. The first half being acoustic sets, with the second half of the night being full electric and heavily rocking sets. Starting things off were James Kottak of The Scorpions along with Stephanie Smith doing a three song set, following them was the band Hurricane, including Andrew Freeman, Robert Sarzo, Tony Cavazo, Mike Hansen & Scott Warren performing "I'm On To You" and "Take What You Want". The crowd was getting into this show early and knew what a night of great music was in store for them all. After Hurricane, one of the event's founders, Jeff Paris came on to do three songs followed by Richie Kotzen (Poison/Mr. Big) doing a couple of tunes. Up next was Frank DiMino (Angel) and Oz Fox (Stryper) doing a pair of songs, and with the crowd still riding a high of great music thus far, coming up to the stage next was original lead singer of Rainbow, Graham Bonnet, along with the seasoned guitarist Howie Simon. The Hard Rock was shakin', proving that people can rock out to acoustic songs as much as plugged in, and when you thought it couldn't get any better, Great White comes on. Terry Illous along with original members Mark Kendall, Michael Lardie & Audie Desbrow with Scotty Snyder break into a four song set of Great White hits, "Rock Me", "Save Your Love", "Lady Red Light" and "Desert Moon," bringing an end to the acoustic sets and ready to plug in and rock out even more.
On top of all the great music thus far, the event was being seen world wide over the internet through UStream.tv, with donations coming through all the time. Adding to that, were all the guests at the Hard Rock Café donating thousands of dollars in a raffle, with some incredible prizes being handed out, plus VIP passes which brought patrons the thrill of a lifetime, hanging out at side stage with all the artists performing. These fans got the opportunity to take pictures, get autographs & more. The best of this experience is that every musician was having a great time and made everyone coming to see the show, feel like they were a part of it.
Now that all the instruments were plugged in and the amps cranked up, it was time to really rock with a slew of All-Star jams. The first one started off with Graham Bonnet, Carlos Cavazo (Quiet Riot/Ratt), Jeff Pilson (Foriegner/Dokken), Howie Simon, Audie Desbrow and Jeff Paris doing "Since You've Been Gone" and "Day Tripper." With the crowd geared up now, it was Jeff Paris, Mark Kendall and Jeff Pilson being joined by Troy Patrick Farrell (White Lion) for a blazing version of "Tush." That led to Frank DiMino, Oz Fox, Mark Kendall, Rudy Sarzo and Troy Patrick Farrell then performing "Whole Lotta Love," followed by Terry Illous, Craig Goldy (Geuferia), Scotty Simon, Simon Wright and Scott Warren (Dio) doing "Last In Line" and "Man In The Silver Mountain." There was one more jam to be done before the finale, and the crowd had been waiting to see Vinnie Appice (Black Sabbath/Dio) get behind the drums with Robin McAuley (MSG/Survivor) taking the microphone, joined with Robert & Rudy Sarzo and Scott Warren, cranking out awesome versions of "Heaven and Hell" and "Rainbow In The Dark."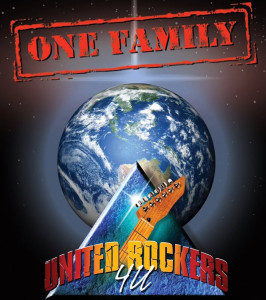 The crowd was screaming and wanting more, and with lots of thanks being done, acknowledging everyone who took part in making this one memorable night, it was the moment for the encore, which deservingly so, brought most of the musicians all back on stage to perform "One Family." This was the perfect way to conclude a wonderful night of music. Of course all the artists stuck around to hang out for more pictures and autographs and give back to all the fans that came out for this great cause. Now you can understand why writing my "On The Scene" article had to be this event. It wasn't just about so many great rock stars being all in one place, performing on one stage, but how the fan was welcomed with open arms to become all "One Family" for something special.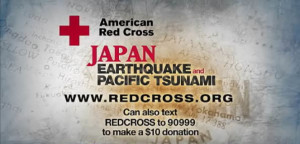 When all was said and done, the benefit raised tens of thousands of dollars and is still giving everyone the chance to donate. So please log onto www.UnitedRockers4U.org and download the single "One Family", with the proceeds going to the American Red Cross, plus you can always donate to Disaster Relief at www.RedCross.org at any time. Check out www.RockNRollIndustries.com to see all the great pictures and videos from the show too."