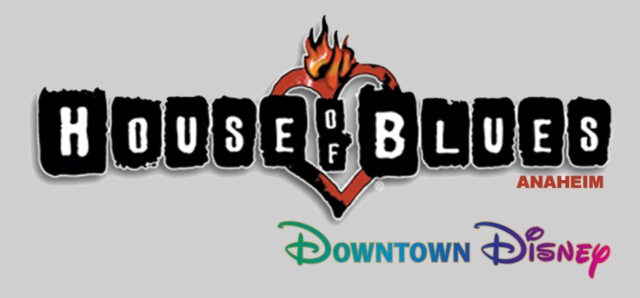 HOUSE OF BLUES ANAHEIM – "DOWNTOWN DISNEY"

As I sit down to write this, during the weekend I will be attending the "Preview Celebration" for, well basically the private, Grand Opening Party for the new House Of Blues located at the Anaheim GardenWalk. So I thought I should pay homage to a venue I had the pleasure to attend as so many did, let alone be a part of working promotions with for many years, the House Of Blues in Downtown Disney.
Through out all my years here promoting concerts in Southern California, I've been fortunate enough to work with many great venues. Since I've started blogging, it gives me a chance to write about some of my favorite ones. One of those places had not only been one of the best to work with, but also a great place to enjoy a show as a fan… The House Of Blues Anaheim located for over 15 years in Downtown Disney, adjacent to the Disneyland Resort.
When it comes to a concert venue, so often, location is everything, and the old House Of Blues Anaheim location had that down. In fact, other than the venues up at L.A. Live, this may have been one of the most desired spots to be, smack in the middle of Downtown Disney. Talk about a stretch of area that is teaming with pedestrian traffic seven days a week, three hundred and sixty five days a year. Of course, in other ways, this also played to some the negatives of attending a show there too.
The House Of Blues chain already has a built in following of concert goers nationwide, and having one located in Orange County naturally will always be busy, but throw in having Disneyland and California Adventure right next door and you're bound to always have a packed house.
The Anaheim venue is decent sized, holding 1,000 people in around 22,000 square feet, it was a little smaller than the Hollywood Sunset Strip location and a bit bigger than the San Diego one. In comparison, the new GardenWalk location will hold 2,200 people in the main Music Hall plus 400 people in The Parish. If you were on the main floor, you were always going to have a great view of the stage and the bars on each side of the room will have you grabbing a drink in no time. However, if I had to give any negative feedback, is that on the second level you would have been happy had you gotten VIP seating, but if you didn't, it was very difficult to see the stage. A major drawback to Downtown Disney, was they don't have a Foundation's Room. Not to act spoiled, but I do have a Foundation's membership, and there's nothing better than being able to get away from some of the craziness and grab a cocktail there. Knowing the new GardenWalk location will have a Foundation's Room, which will hold 150-175 people, so needless to say, I can't wait.
They did make up for it to a degree with a large outdoor/indoor patio. It had a huge bar and seemed to be the gathering spot for many people. Especially after many shows, with no Foundation's Room, this would be the area for many a Meet & Greet's with the bands or areas the bands set up for merchandise.
You could catch the show on the monitors all over without missing the action. But another huge drawback, if you were a non-smoker as I am, it could be hard to breathe sometimes if you were out there when it filled with everyone taking a smoke break. Maybe that's why the bathroom attendants had so much cologne or perfume, to get that stench off you, lol.
Another great plus, and I'm not quite sure why this is, but the Downtown Disney location had one of the better Crossroads, which is the name of the restaurant at each House Of Blues. If you're a fan of Southern fare as I am, then make sure you get to a show early to have dinner at one. From their Voodoo Shrimp, Jambalaya, Buttermilk Fried Chicken to their Lobster Mac & Cheese or Applewood Bacon Wrapped Meatloaf, you'll be licking your chops all concert long. I strongly suggest you make reservations too. When it wasn't not packed with concert goers, it was packed with Disney tourists, so I'm sure the new location at GardenWalk, which is just across the street by the way, will consumed again with both types of patrons. The new GardenWalk location will hold 325 patrons and it's size will contribute to a total of 40,000 square feet for the whole location between the music venue and restaurant.
With a full belly you were ready to rock, I certainly was, and that House Of Blues was one of the best to do that at. I had been fortunate to have worked with so many great rock shows there over the years. Rocking with Foreigner, Cinderella, The Cult, Steel Panther, George Thorogood & The Destroyers, Slash, Great White, Warrant, Lita Ford, Queensryche, The Babys, Living Colour, Blues Traveler, The Winery Dogs, Gilby Clarke, Stryper, Quiet Riot, Ratt, Apocalyptica, The Bullet Boys, Vixen, Femme Fatale and Yngwie Malmsteen.
One of the coolest moments was a few years ago when Lynch Mob opened up for Dokken. If that rare bill wasn't enough, the crowd was in anticipation as the night before at the Sunset venue, original guitarist George Lynch had come out on the encore to perform with Dokken. Anaheim had the makings to one up that night before on this show, and it certainly did when it was encore time and Don Dokken said he had a couple friends he wanted to bring up. Not only did George come out for this show too, but so did original bassist Jeff Pilson. Along with Don and current & original drummer Wild Mick Brown, George and Jeff rocked two classic Dokken hits. It had been the first time in decades all four played live, and most likely the last. What an incredible show to a part of.
I wouldn't wear my moniker of "Mr. 80's" well if I didn't work with some of the 1980's awesome New Wave bands too. I surely have, with Wang Chung, The English Beat, The Psychedelic Furs, A Flock Of Seagulls, Berlin, Bow Wow Wow, Dramarama, The Fixx, Johnny Vatos Oingo Boingo Dance Party, Gene Loves Jezebel, Animotion, When In Rome, Naked Eyes, Boys Don't Cry and Anything Box.
Plus all the great alternative rock bands I also had the honor to work with… P.O.D., Scott Weiland, Hoobastank, Soul Ayslum, The Adicts, Big Head Todd & The Monsters, Meat Puppets, Stiff Little Fingers and 10 Years.
Many of these shows I've not only worked on promotions, but been able to host & emcee. The best night ever getting to do that had to have been when I was working with Foreigner for a bit. They have been one of those bands always giving back, and during one of their tours, I was the fortunate one to host their concerts, helping the effort to raise money for local charities during their tour stops. There's nothing like the thrill of being on stage with a legendary band like Foreigner, but add to it being a sold out, packed house and an energetic Orange County crowd. By the time I uttered the words to "make some noise for Foreigner" as they hit their first chords, the roar of the crowd had it so I couldn't even hear my own voice through the monitors. Awesome moment!!!
Another of my fondest memories have always taken place during the NAMM Show, which for those not familiar, is the world music convention held at the Anaheim Convention Center at the end of January. For many of the recent years I've always worked on all 3-5 nights straight it seemed of shows there with some of the top artists around to compliment all those in town for NAMM. As if already working with HOB and LiveNation wasn't an honor, being a part of their slew of NAMM shows each years just adds to it. In fact, with Downtown Disney closed and due to construction this January of 2017 of GardenWalk still going, this was the first year in many there weren't shows for me to be a part of. Thank goodness for all the years previous memories!
Due to Downtown Disney's size, it was able to hold the crowd sizes that packed it for national touring acts, just like the ones I've mentioned already. But it was also small enough for some of the more successful tribute and cover bands to fill it up with fans as well. Some of those I had been given the pleasure to work with, like Aeromyth (Aerosmith), Appetite For Destruction (Guns 'N Roses), The Atomic Punks (Early Van Halen), Blasphemous Rumours (Depeche Mode), The Curse (The Cure), Damage Inc (Metallica), The Iron Maidens (All-female Iron Maiden), Led Zepagain, (Led Zeppelin), Motley Inc (Motley Crüe), Pyromania (Def Leppard), Sweet & Tender Hooligans (The Smiths) Wayward Sons (70's & 80's Arena Rock) and Wild Child (The Doors) just to name a great few.
Lastly, add in the concert hall's state of the art sound and lighting, along with such incredible bands always on the monthly calendar, great food in their restaurant and you can see why that had been one of the top Orange County's live music venues. I had been thankful to do work with them for years and look forward to many more over at the new location at the Anaheim GardenWalk. I just hope I see some of you that still hadn't made it to this venue, at the new venue finally.
HOUSE OF BLUES ANAHEIM – DOWNTOWN DISNEY
Was located at 1539 South Disney Drive, Anaheim, CA
The new location is at…
HOUSE OF BLUES ANAHEIM – GARDEN WALK
400 West Disney Way, Suite 337, Anaheim, CA 92802
www.HouseOfBlues.com/Anaheim