BRAT & BRAU – Hermosa Beach, CA
"A Taste Of OktoberFest in Hermosa Beach"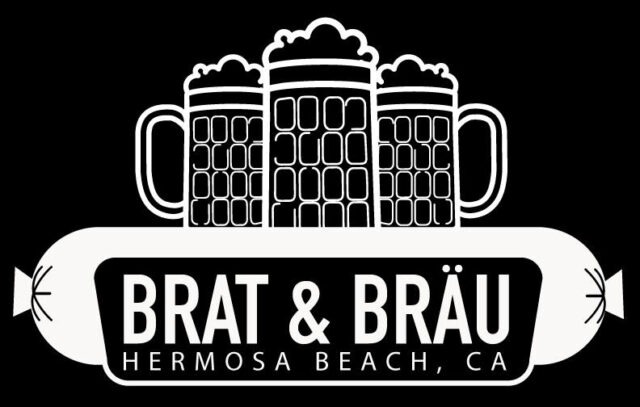 *** Since the release of this Blog, unfortunately, Brat & Brau has just closed. ***
It's not often that I write about a restaurant that I haven't been to at least several times. After all, I blog about my life in music, travel, food and sharing my great experiences. I don't write as a restaurant critic nor ever imagine myself to be one. That said, I felt the need to originally write about this place after just one visit, and that place was Brat & Brau.
Due to some web hosting issues, that blog vanished off the net, and with OktoberFest now upon us, along with a couple more visits since my debut there, I felt it was the perfect time to repost my original blog with some added content.
Brat & Brau is a fairly new German restaurant that's just over a year and a half old, in the heart of Hermosa Beach. I should say it's more reminiscent of a Bavarian Beer Hall, in a miniature size, than a restaurant, which you can tell the minute you walk in. It has a simple décor, the walls painted with some fun German artwork, with seating arranged most importantly with that Beer Garden community bench set up. It's not just the look of the place that reminds you less of a traditional German restaurant, it's also the menu.
I'll get to the menu in a moment as first I want to mention again its location. It sits on Hermosa Avenue just one block over from the Hermosa Beach Pier and one block from the beautiful Pacific Ocean, with a view of it from the windows. It's just funny to imagine finding true German cuisine only steps from the beach, but here you can. In an area that's filled with sushi places, burger joints, and taco-stands, it was great to see this hit the area. They quickly benefited from a beach community who likes to bar hop with this Beer Hall, though small, atmosphere.
If you have ever been to Germany or at least to an OktoberFest, then you'll understand why I said the menu is more in line with a Beer Garden/Hall than a restaurant. That's done by design as it's owned by the two gentlemen behind the Hollywood German restaurant Wirtshaus, Bjoern Risse and Ben Yildirim. Here it's all about the Brat's, aka the German Sausages and the Brau, aka the German Beer! When it comes to the sausages, first they take pride in the ingredients; imagine that these days. Using local, all-natural ingredients, no hormones, no preservatives, no antibiotics, always fresh & never frozen, from well-trusted farms and made from family recipes. Each day they feature daily specials, but the staples of the Brat offerings range from their "All Time Favorites" aka German favorites like the Traditional Bratwurst (pork & veal), Kasekrainer (pork sausage filled with Emmentaler cheese), the Polish Kielbasa, also known as the Kielbasa On Fire (pork, beef, red peppers, paprika & garlic) and new "Favorites" the Cheddarwurst (pork, cheddar cheese & jalapenos) and the Spicy Chicken (chicken, spicy mango & jalapenos).
There are the "Craft Handmade Sausages" like the Spicy Europa (pork, chili, fennel & basil), Chicken Artichoke (chicken, artichoke, peppadew & black olive) to the South East Asian (pork, lemongrass, ginger, sambal chili, Thai chili, garlic, cilantro, basil & shrimp paste) and Spicy Beef & Smoked Gouda (grass-fed beef, thyme, chives, black pepper, horseradish & smoked gouda cheese). With new "Exotic & Specialty Sausages" like Wild Boar (wild boar, garlic & red wine), Buffalo (buffalo, bacon, chipotle peppers & red wine) to Duck Bacon (duck, bacon & jalapeno). They even feature Vegetarian options like the Hamburg (apple, Yukon gold potatoes & sage) and the added MexiCali (chipotle peppers, cumin, garlic & sweet peppers). All of which are served on freshly baked brioche buns and give you the choice of two toppings from… sauerkraut, caramelized or grilled onions, sweet peppers, fried shallots, jalapenos and newly added egg (fried or scrambled) or bacon.
Don't worry, they have plenty to accompany those sausages too. From 4 types of mustards (beer, sweet, spicy & yellow) and a curry ketchup on the table on the ready, to some amazing sides. What's an authentic German place without that Bavarian Pretzel? Well, those are here!
Plus, Sauerkraut, Potato Pancakes (topped with mascarpone cheese & applesauce), their signature Brat & Brau "Kiez Fries (topped with feta, cucumber, tomato, red onion, pepperoncini's, bell pepper, black olive & garlic aioli) and just added Crispy Brussel Sprouts (with a honey-lemon siracha sauce). There's a bit more that I didn't even list above including dessert, which includes what my wife and I had on our visits, which I'll get to in just a second. Certainly, check out the menus I've posted here which includes not only all the great food selections but all the beers and authentic German beverages… speaking of which.
Although I'm not much of a beer drinker and adding our visits seem to always have been in the afternoon, we weren't about to start sampling what they had to offer. That said there's another reason Brat & Brau has been a huge hit here in Hermosa Beach other than the food… well duh, the Brau. The South Bay loves their drinking, especially around the Pier area, and on weekends it's smart they are open from 11 am until 11 pm. They're serving up 12 imported Deutschland favorites and rarities on draft, including Erdinger Hefeweizen, Weltenburger Asam Bock, Warsteiner Pilsner & Hofbrau Original Lager. All of which available in a glass, 1-liter classic stein or the traditional 2-liter boot. Can't make up your mind? Don't worry, they feature a four 5oz pour selection, the "Autobahn Beer Flight" too.
If bottles are your fare, then they have that covered with at least 10 more German authentic imports. With several red and white wines, you're taken care of if a beer is not your forte. Ironically one of the only two minor suggestions I had when originally writing about our first visit during the opening week, was that they should carry a nice German Cider. Well, they now carry 2 brands of cider, though not German, I'm impressed it didn't take long for that change to improve. They are serving Underburg, a German digestive, which I have to admit, I do enjoy and suggest if you haven't ever tried yourself, on a nighttime visit, shoot a mini-bottle down at the end of your evening.
Back to our initial visit which came to us luckily enough by one of those random Facebook generated ads on my timeline. It was around noon on a Friday afternoon and up pops this ad, I clicked on totally curious about a German place to eat in Hermosa Beach that had just opened that week. My wife, Nicole and I looked over the menu and were impressed enough to say, let's head on over for lunch and try it out, so away we went (back then they were Friday's they were open the same as weekend hours). We had already perused the menu before we left but I asked the young man taking our order as I was stuck between choices and so was Nicole just on her Veggie sausage options. I finally narrowed it down to their most popular, imagine that, the Spicy Beef & Smoked Gouda sausage, topped with sauerkraut & grilled onions along with an order of their homemade, authentic German Potato Salad (potatoes, eggs, celery, red onion, chives in a mayo-mustard sauce). Nicole decided on the Vegetarian "Berlin" (eggplant, fennel, garlic, red wine & red pepper) which unfortunately is no longer on the regular menu and a Bavarian Pretzel.
There's a reason I'm sure why my first order is their most popular, simple, full of flavor, loaded with a hint of spice and best of all, plenty of that smoked gouda oozing out of the sausage after each bite. I gave it a good dose of the beer mustard with just a bit of the spicy mustard for some extra kick, to add to the sweet & sour mix of the sauerkraut and caramelized onions on top. This was one tasty Brat! But what stole the show for me believe it or not was the Bavarian Potato Salad. Yes, you read that right. I kid you not, I hadn't had potato salad with such authentic, German flavor in ages. Something so simple can add so much to a meal and this did that, let alone a heaping portion. More than enough for me to keep eating with all of Nicole's bites getting in there.
Nicole invading my potato salad was quite ok, after all, I ended up confiscating about half of her pretzel, I mean, how could I not? Probably more because her veggie sausage was far from a tiny portion. Her "Berlin Brat" on that brioche bun, topped with sweet peppers and caramelized onions was a fantastic and rare full-flavored veggie meal. It's not that common for Vegetarian and German Sausage houses to go hand and hand yet here at Brat & Brau that's not a problem. It's great for me being a meat eater with a veggie-eating only wife.
Sadly, for us now, her severe gluten allergies and my newly gluten problems will put a hamper on those delicious buns, and unbelievable Pretzels. Who knows, maybe in the future they will even carry gluten-free buns to make it perfect for not only the both of us, but so many others these days. The last couple of visits she just ordered her Veggie sausages without the buns, but for me, it's allowed me to take advantage of one of their fantastic tasting combinations, either the Sausage Platter "Ruhrpott" (Bratwurst, Kasekrainer & Kielbasa) or "Black Forest" (Spicy Chicken, Wild Boar & Cheddarwurst) served with homemade mustards.
Wrapping it up, from our very first visit upon their opening, Brat & Brau was a really great and unexpected find, considering just 2 hours before we arrived we hadn't even heard of the place. That was the second time that had happened thanks to a well-placed Facebook sponsored ad, so I guess they know what they are doing. I can't complain since we're happy I came across it. I'm half German, I've been to Germany and it's high on our list since Nicole has never been for us to visit, especially Bavaria. German food has always been a favorite of mine, so finding a place right near where we live that gives us a great, quick bite to eat and mind you, at reasonable prices is even better. I have even grabbed a couple orders of the potato salad to go to enjoy at home later.
They've come a long way in such a short time, especially growing successfully with the community which is always great to see. They now boast one of the Best Happy Hours in the South Bay, with huge steins of German beer for only $10 and appetizers that are 25% off. They feature fun themes all the time, whether it's a weekly event such as Wurst Wednesdays with $5 sausages, Thirsty Thursdays with $10 large stein beers or Holiday specials, most importantly "OktoberFest"!!! Each week starting in September through October they run specials on food & drinks, have events going on and celebrate as only an authentic German Beer Garden would. Looking for an excuse to try them out, that's the time. Once again, check out their menus and if you're down in the South Bay, pay them a visit, you'll be glad you did.
BRAT & BRAU
1342 Hermosa Avenue
Hermosa Beach, CA 90254
310-376-6532
www.BratBrau.com
www.FaceBook.com/BratBrau
www.Instagram.com/BratBrau