THE BLOODY MARY FEST L.A. – LOS ANGELES, CA
1st Annual Bloody Mary Festival, L.A. Debut.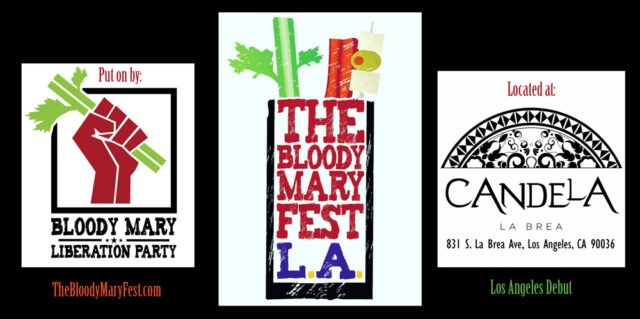 When most people think Bloody Mary, they instantly think New York City where it was perfected; thus it's only fitting that New York City is where The Bloody Mary Festival was born. The Bloody Mary quickly became a brunch staple not only on the east coast but also the west. It's only fitting that in a town that boasts year-round perfect weather, the Bloody Mary has become a drink which Angelenos live for, a match made in Heaven, with many versions and everyone claiming to have the best Bloody Mary in L.A. Luckily, Los Angeles didn't have to wait too long to settle this heated debate. In September of 2017, the now nations sweeping festival honoring this classic concoction made its debut… The Bloody Mary Fest L.A.

With a resurgence in the popularity of classic cocktails, spirits such as bourbon have become trendy again across the nation and craft beer continues its growing craze, one drink has slowly crept back into the spotlight, what was once a go-to hangover cure has become a multi-million dollar mixer industry. Major companies to small-batch family establishments are all vying to grab the consumers taste buds, clambering to let them know that Bloody Marys aren't just a mix of tomato juice, Worcestershire sauce, lemon, salt and pepper topped with a stalk of celery.
This especially goes for not only pubs & bars but restaurants across the country. In fact these days you will see social media lit up with the most outlandish garnishes placed atop their Bloody Marys.
That's why about five years back, Evan Weiss and his wife Yunna formed The Bloody Mary Liberation Party (www.Facebook.com/BloodyLiberationParty). Their mission was simple, seeking out bars and restaurants making the best Bloody Marys. It wasn't long after that The Bloody Mary Festival in Brooklyn was born. The first one was such a hit, by the time it returned for another year, more cities were added. Before they knew it they had expanded to Dallas, Denver, New Orleans, Portland, San Francisco and Washington D.C. Of course, you can't have a drink as famous as the Bloody Mary and a city like Los Angeles, filled with some of the nations best chefs, bars and restaurants without bringing the Festival here, and that they did. In fact, at the time of this writing, they're even heading into new cities, including Nashville, San Diego and the Twin Cities of Minneapolis/St. Paul.
What is a Bloody Mary Festival you ask? In simple terms here in L.A., it was a "celebration", or gathering of some of the best restaurants and bars in the Los Angeles area, preparing their signature Bloody Mary, along with a few local companies who offer a pre-made mix. They gathered at Candela La Brea (www.CandelaTacoBar.com), a well known Mexican Restaurant and event hall located on La Brea in Mid Los Angeles. They would open their doors to the public to "judge" along with actual industry judges, and vote on the best Bloody Marys in L.A.
This was a Festival, not just a drink sampling event. It was an afternoon filled with live entertainment, food and of course drinks. The music all afternoon was performed by L.A. Orquesta Nueva Revolucion. A local band of about 14 musicians including multiple singers, percussionists and a horn section playing everything from Mariachi & Spanish hits to 80's classics and modern day hits.
There was plenty of food to be had as Candela had a taco bar, which being a Mexican restaurant made sense, but also those sure go well with Bloody Marys, not just Margaritas. In fact, I tend to think something you're eating that's spicy, has salsa, umm, hello, tomatoes in it, would go better with a Bloody Mary, right? Plus plenty other food to snack on and beverages to quench your thirst thanks to the many sponsors on display, including…
Cypress Grove Cheese, award-winning cheeses out of Arcata, CA (www.CypressGroveCheese.com); barkTHINS, real, simple snacks (www.BarkThins.com); Health-Ade Kombucha, organic, healthy kombucha (www.Health-Ade.com); Imperfect Produce (www.ImperfectProduce.com);
Krave Jerky, all-natural, guilt-free jerky (www.KraveJerkey.com); Owl's Brew, artisanal tea mixer (www.TheOwlsBrew.com); Propers Pickle, delicious, pickled vegetable slices from Long Beach, CA (www.PropersPickle.com); SmashMallow, guilt-free marshmallow snacks (www.SmashMallow.com); Topo Chico Agra Mineral water, founded in 1895 (www.TopoChico.com); and Zupa Noma, superfood soups, made from the best ingredients (www.DrinkZupa.com).
The star attraction of the day was the Bloody Mary, and for the debut year, it was nicely represented by a mix of establishments throughout the L.A. area from homemade on the spot to pre-made & bottled or canned. Those battling it out and providing samples for patrons to taste and judge were…
The Attic On Broadway in Long Beach (www.TheAtticOnBroadway.com); Backyard Mary in Sunset Beach (www.BackyardMary.com); Cole's – Originators of the French Dip in Los Angeles (www.ColesFrenchDip.com);
LAVA Craft Cocktail Mixers in Orange County (www.DrinkLava.com); MiddleBar in Inglewood (www.MiddleBar.com); Pacific Pickle Works in Santa Barbara (www.PacificPickleWorks.com); Playa Hermosa Fish & Oyster in Hermosa Beach (www.PlayaHermosaOyster.com), Spare Tire – Kitchen & Tavern in Los Angeles (www.SpareTirePub.com); Vampire Gourmet Bloody Mary in Beverly Hills (www.VampireBloodyMary.com).
If for some reason you needed a small break from Bloody Marys, there were a couple of Michelada's represented by Camarones Cabrones in La Puente  (www.CamaronesCabrones.com) and Chinolada in Los Angeles (www.Chinolada.com).
To keep everything on a level playing field when it came to the Vodka, Crater Lake Spirits one of the main sponsors provided just that. Crater Lake Spirits is a small company, based out of Bend, Oregon, producing handcrafted spirits including the vodka that all the contestants used (www.CraterLakeSpirits.com).
On a picture perfect Saturday afternoon in Los Angeles on September 23rd, which happened to be two days before my Birthday (yes, a heck of a present), the doors readied to be open at noon before an unbelievable line of people waiting down La Brea Avenue. That is except yours truly. You see, I had the honor to be asked to be one of the five celebrity judges! I was joined by friend Shelley Buchanan, who's been turning into the Queen of Bloody Marys across the nation of late. From her early days of her Bloody Mary blog The Drunken Tomato to author of several books on where to find the best Bloody Mary in select major cities, a merchandise line, to judging now all of the Festivals, and even putting on her own competition… yes, Queen she is (www.DrunkenTomato.com). We were also accompanied by industry notables, including semi-local Liz McCray of Bloody Mary Obsessed (www.BloodyMaryObsessed.com)who drove up from San Diego with her husband, Dr. Brian King of Bloody America, a psychologist who also travels the country as a stand-up comedian, flew out with his girlfriend Sarah & their adorable baby… and future judge, lol (www.BloodyAmerica.com); and Celso Oliveira of The Best Drink Ever (www.TheBestDrinkEver.com).
There before doors opened we had the chance to check in, gather our Judges credentials and score sheets, then go in to chat with the vendors. I went around and took a few pictures and prepared to witness the crowd that was about to besiege the event. Luckily here in L.A., the Festival was using a new format of two "seatings" if you will. There was the noon until 2:00 pm event, then they would close and give the vendors a chance to refresh, resetting and refilling for the second event for a new crowd from 2:30 pm until 4:30 pm. A smart idea which worked well, as doors opened and luckily they slowly let in the waiting crowd, which consisted of hundreds upon hundreds of people.
Even though the crowd was slowly let in, the vendors were pounced on. All the Bloody Mary contestants were feverishly trying to refill the sample cups for the visitors to taste. Speaking of tasting, the way it worked was each person who purchased a ticket was able to sample all they like during their time at the event. They also received one poker chip to place in the bowl on the table of the maker they felt had their favorite Bloody Mary. At the end of the day, those chips would be calculated from both events or seatings, and a "Peoples Choice" Winner and Second Place would be chosen. All the hand-crafted Bloody Marys and Micheladas you can sample, all the snacks from the sponsors mentioned above and you were able to participate in a voting process… not a bad deal. For the record, the only thing you did have to pay for was the taco bar and the restaurant's full bar if you were craving a Scotch or something. If you were craving a Scotch, I'm not sure why you were there though, lol.
The big title the makers of the Bloody Marys were vying for was the Judges Pick. I have to tell you as one of the judges we took our job seriously. We all were there from 11:30 am until the event was packed up. We talked to all of the companies who had produced pre-made mixtures and had them presented as fresh as can be, garnished to impress. We got to know the restaurants and bars who entered with their signature handcrafted Bloody Marys that customers travel all around Southern California to enjoy.
We sipped, sampled the garnishes, licked the rims, smelled the aromas, took pictures and wrote down notes. We talked to people all day long. We watched the lines, and I do mean lines. It was fascinating to talk to some of the people who waited in some lines for up to 45 minutes to sample a certain Bloody Mary or Michelada. Some people had heard of that one and wanted to taste while others simply had the herd mentality and jumped in line just for the fact they saw so many others waiting, they felt it had to be that good.
During the course of the afternoon, one thing was for certain, this 1st Annual event was a huge success. People were enjoying themselves. With the band playing, food and snacks to keep people munching, plenty of drinks being served and so much fun all around, this was one great vibe. The Festival organizers were smart, covering every detail down to easy to see place cards with the Festival's social media sites and hashtags posted (Instagram: @TheBloodyMaryFest, #TheBloodyMaryFestLA, Facebook: BloodyMaryLiberationParty, Twitter: @BloodyMaryFest). Everyone was snapping away on their smartphones & uploading their pictures from the afternoon.
There were lines at Vampire Gourmet to get your picture taken with their Vampire. People lining up to Snap the giant Backyard Mary with garnishes almost a foot tall containing a dozen shrimp, steak and a hard-boiled egg. Some were hungry for the famous cheeses of Cypress Grove, hopping back in line for more, just as they were grabbing cups of the pickled veggies from Propers Pickle.
When it was time for some hydration you could grab a tall bottle of mineral water from Topo Chico. Of course, the longest lines were for the Bloody Marys and especially the longest line of the day went to Chinolada. People were waiting for over 45 minutes to get their hands on a Bloody Mary, which might have had something to do with the fact they were the only ones that served them in a full-size tumbler compared to the sample cups all the others were serving in all day.
One of the busiest tables, in fact, wasn't even serving Bloody Marys; it was the home base of The Drunken Tomato. When Shelly Buchanan wasn't running around judging, she was with her staff talking about one of her books, keeping track of her merchandise which was flying off the shelves like hot cakes, applying the in-demand temporary tattoos or taking pictures with the giant, Dancing Tomato walking around.
All in all, it truly was great to be blown away by the actual flavors from the cocktails of the day. Although I won't specifically tell you who I voted for and in what order, I will mention a "few" that caught my attention for one reason or another… in alphabetical order of course. Backyard Mary Mixer – was one of the most popular all afternoon, you could say they had their own fan club, but it was well deserved. They knew how to work a crowd, but their Bloody Marys have had Orange County crowds coming to see them for years.
LAVA Craft Cocktail Mixers – I was stunned it came from a bottle. Of course, for most of us craving a Bloody Mary at home, that's usually the best way for us to have one unless we're talented enough to make one from scratch. I could have sworn they had made it fresh, not freshly opened. Maybe those Italian San Marzano tomatoes they use are the key, that and the many fresh veggie options they had to offer. MiddleBar Mary – had a reputation for a great Bloody Mary and it was great to finally see what all the talk was about; rich in flavor, a definite stand out. Playa Hermosa Fish & Oyster – the flavor from their Bloody Mary was sensational, and the simple garnish of beef jerky sticks and spicy pickle spears made this secret specialty one to remember.
I was proud to be a part of this first Festival in Los Angeles. Running into so many people I knew brought me a lot of pride. Even my In-Laws came down to support me… well I know better, they love Bloody Marys, so they couldn't fool me. They did have a wonderful time, as did everyone I knew and again, all those I actually was able to talk to. I made a point to talk to many, especially getting their take on the cocktails of the day. And as the day was coming to a close, we the judges at different times read over our notes, tallied our scores, each picked our personal favorites and handed in our sheets. Later after closing a few of us compared notes, and I found it amazing that at least 3 of us that chatted had almost the exact same opinions. That is consistency, to say the least. We were then told that later that night on social media the winners would be announced. Anticipation was killing me but not near as much as all those who entered I'm sure. At the same time, it was a long and grueling day. Between the prepping the days before, the morning of, the event itself, then the breaking down, I'm sure they were all exhausted and ready to head home and just wait for the announcement.
I did talk about what a big success the first year of the Festival in Los Angeles was, which is why they already were talking about ideas for the second Annual Fest. Bigger you can bet with I would imagine much more entering to battle for the title of Best Bloody Mary in L.A. You can easily see the crowds coming in larger amounts, along with companies wanting to be a part of this fantastic event. I've heard rumors already of judging of categories on best "original" recipe & "traditional" recipe for example. So, stay tuned for announcements and updates as they start to roll in. You can bet I hope to be back again and if you weren't there, you should make your plans to get a ticket in advance before they sell out.
Now I'm sure the moment you all were waiting for, what were the results of all that voting, from the judges to everyone in attendance. Who now holds the crown, the title, from the first Annual Bloody Mary Fest… who has the BEST BLOODY MARY?
Winner of Best Bloody Mary in L.A. – Judge's Pick:
Playa Hermosa Fish & Oyster in Hermosa Beach, CA.
2nd Place: MiddleBar in Inglewood, CA.
The People's Choice Award –
Winner: MiddleBar in Inglewood, CA.
2nd Place: Backyard Mary in Sunset Beach, CA.
Best Michelada –
Winner: (tie) Camerones Cabrones in La Puente, CA and Chinolada in Los Angeles, CA.
There you have it, congratulations to Playa Hermosa Fish & Oyster on Winning the first Annual Bloody Mary Fest. It was well deserved and I strongly suggest you head down to Hermosa Beach to not only try the "Best Bloody Mary in L.A.", but all of the great Bloody Marys that were a part of this incredible day. I also want to again thank Evan & Yunna, Shelley and everyone that had a roll in The Bloody Mary Fest, it was an honor to serve as a judge and be a part of this historic day.
THE BLOODY MARY FEST L.A.
www.Facebook.com/BloodyLiberationParty
www.Twitter.com/BloodyMaryFest
www.Instagram.com/TheBloodyMaryFest