BEACH MEX – EL SEGUNDO, CA ***Restaurant has just closed, sadly***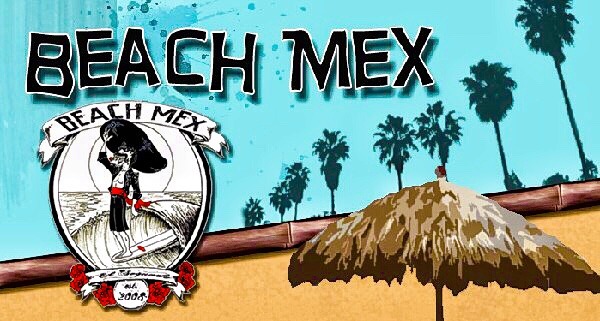 *** Unfortunately since this blog was written, Beach Mex, after a 10-year run has closed it's doors.***
A few years ago I had the pleasure of writing about Beach Mex. Since then we've been back countless times enjoying, let alone gladly hearing of many others praise my recommendation to visit them. In honor of Cinco De Mayo this weekend, I continue my yearly tradition in reposting my original blog with a few updates, info, and new pictures.
One of the great things about writing a blog is that I get to share events in my life, from glamorous to everyday experiences. That said I finally was able to write about the place that my wife and I seem to end up eating at around town more than any other place, a cute little Mexican restaurant called Beach Mex.
Happy Anniversary!!! Yes, Beach Mex originated back in 2008 by restaurant owners Scot Nicol and Neil Wallace with the concept of bringing the neighborly beach town of El Segundo, a fresh place to eat, with a fiesta feel for foodies and families alike. A place you can get a unique bite or traditional Mexican classic.
By day during the week, Beach Mex is filled with a mix of those working in El Segundo. From our men in uniform from the local military installations and workers from the Chevron refinery to business executives from all the corporate headquarters found in this little town by the sea. By night and especially on the weekends, it's filled with the couples and families that make El Segundo the well known family-friendly community it is. Be fair warned, during summer time on the weekends, after the Little League games wrap up, which I'll go more into later, the place to be is Beach Mex. A true testament of how attached to the community they are.
One way they've shown their involvement in the community had been during the recent elections placing their stamp in the political scene, but in a good way, which is a fine line with a business involving its self with politics. When a few city councilmen & women were failing the town, especially when it came to the El Segundo Police and El Segundo Fire Departments, Beach Mex held a fundraiser for a candidate who pledged to help those important branches of public safety. Beach Mex also through their social media continually reminded their patrons to get out there and vote. But it didn't stop there. Just this past election Scot decided to really put El Segundo first and ran for City Council. Needless to say, he won in a landslide.
That's a great responsibility for a local business in a small town to take on being so involved, showing just how much they care. But this has been going on with Beach Mex for years now. They've also been very active helping to raise money for the El Segundo Schools in their El Segundo Ed foundation.
Caring and giving back to the community is what they do, even when it comes to the pricing of their menu and catering to the many walks of life with daily specials to please everyone. I mentioned earlier about those busy summer weekends after the Little League games, why you may ask? Well, Beach Mex can't get more community than this. Not just during the summertime, but "all year round", all kids in their sports uniform eat free… yes, eat free! What better way for the family after the kid's baseball, softball, soccer game, well you get the point, to come in and celebrate that great win, or take their mind of that heartbreaking loss, with some great food, fun atmosphere and not costing the parents a dime!
Speaking of deals, talk about El Segundo and the South Bay's "Best Kept Secret", the recent "Siesta Fiesta Happy Hour" from 3:00 – 6:00 PM, Monday through Friday. If the "2 for 1 Cervezas" doesn't wet your whistle, then their "$5.00 Apps" will. We're talking about delicious samplings from their menu to fill your belly without emptying your wallet. Plus try their new 100% De Agave Azul Margarita. A new reason to pop in on your way home from work.
Beach Mex will always have some daily special on top of what I just mentioned. For a place that's always busy, not because they have to, but because they honestly like to give back to their loyal patrons. For instance, Mondays Kids Eat Free (PSA – it can get crazy, lol); Taco Tuesdays offer $1.50 Tacos and 2 Beers for $5.00; Wally Wednesdays offer $1.00 off their special Wally Tacos; Thursdays are $1.00 off Tortas; Fajita Frenzy Fridays are $1.00 off Fajitas; Saturdays are their Beer Bucket afternoons with 5 Beers in a bucket for $10.00 and Sundays are Family Night, with Free Churros to groups of 4 or more. Of course, please check for any changes and more details to the above specials.
Finding a good local Mexican restaurant is like finding a good neighborhood bar. There's that simple little something special about one, that separates itself aside from the others. Here in Southern California, we seem to have just as many local Mexican places to eat as we do places to grab, a cocktail, so when you find one that does it for you, you tend to stick with it. Beach Mex has been that place for my wife and I since the beginning, and in no time became that way with so many of our friends here in town.
I mentioned that with most Mexican restaurants, they serve traditional fare but Beach Mex also puts their own personal spin on dishes. Starting with their chips & spicy salsa, fresh pico de gallo and guacamole, to chicken enchilada or albondigas (my fav) soup, to creative salads including their specialty Mahi Mahi, Beach Mex or avocado and mango. How about Mexican Cheese Fries? Crisp fries covered in jack and cheddar cheese, guac and sour cream and your choice of meats. Of course, you can grab a taco, quesadilla, burrito, flauta, chimichanga, enchilada, fajitas and more, all with your choice of full-flavored meats… shredded chicken or beef, carnitas or al pastor, carne asada and shrimp. You can even order some dishes with fresh white fish or mahi-mahi. Some of their special entrees like the succulent blackened tiger shrimp…
or one of my latest favorites… the sweet and spicy shrimp. Just the right amount of sweet and tangy flavor with a smack of heat that gets my forehead sweating in just a few minutes. Somehow I keep ordering this dish, but then I'm that kind of guy.
They make my vegetarian wife happy too, with her favorite, the crispy potato tacos, plus potato taquitos, veggie burritos, and fajitas. Though their rice is still made with chicken stock, she's holding out one day they'll make the move to using vegetable stock, then she can enjoy all the beans AND rice to her heart's desire. Now a few years from my first writing that and still no change, but hey, maybe IF a few more of you out there make that request, next update I write, I can spread the word even the rice is vegetarian too!!!
I, however, am more than happy with all the ways they use their meat, lol. My personal choice was always their taco burrito, placing my spin ordering it half al pastor and half carne asada, packed with lettuce, pico, sour cream, and cheese. But I order mine "unwrapped" (without a tortilla) and covered in red sauce! That or their Beach Mex "Po-boy" burrito, packed with 12 beer battered shrimp… mmm, that you have to try.
This past year finds me also addicted to making combos out of two of their taco specials… the Flight Of The Taco, featuring 5 meat tacos (carne asada, carnitas, al pastor, shredded beef & chicken) prepared street style with onions & cilantro and The Flight Of The Taco "Del Mar" featuring 5 seafood tacos (Baja grilled & BM fried shrimp, Mahi Mahi, BM & grilled fish). I usually end up with a Baja grilled shrimp, BM fried shrimp, carne asada, spicy al pastor and shredded beef. That's "usually"… what can I say? I'm a meat lover and at Beach Mex they allow you to mix and match for no more than what the seafood taco plate price is, so what more could I or anyone ask for these days. They have actually had way too many different takes on Mexican food, which is just another reason you need to check them out first hand. After all, self-discovery is what life is all about.
Just last year Beach Mex had incorporated a way to take all these orders, especially the ones you want to customize, easier and more accurate. They've gone all modern and have the servers using a POS (point of sales) system on iPads! Yes, this lil' small town eatery is going big time, lol. Yes, efficiency is great in any size business, but this will really help them in making sure for example if a person has a food allergy or restriction, the server enters that in the iPad, the kitchen staff will now clearly see that. The little things!
Another one of their newest features in making ordering easier, as with many restaurants, you can place your order online but at Beach Mex you can also place it a few other ways as well. For example, head to the app store on your smartphone and simply type in Beach Mex… poof, there it is, the Beach Mex Mobile Application. My wife and I have it on both our iPhones! But that's not all, you can also order online through their Facebook page, and in this social media-driven age, that's pretty nifty. Side note, however, it's not active on Facebook mobile, just the Facebook page on the computer, but then that's what the app is for in the meantime. See, they have you covered.
What happens by the way when you first get there by the way? There are many choices even where to sit. They have a small counter where you can peak into the kitchen or catch a game on one of the many plasma screens where they always have a game on… Go Kings in El Segundo when it's hockey season after all. There's plenty of seating inside the rest of the restaurant with mostly 4 tops, always at the ready for the larger groups coming in to be moved together though. A great fun and festive addition to their large outdoor patio area that they've placed authentic Mexican poncho's & blankets on the chairs. So even though they've got heaters out there, if it gets a tad breezy from the ocean just a mile down the way, no worry, you now have a couple of choices. Which were recently brought back from Cabo San Lucas even, to keep you warm.
Now talk about fresh, as in a fresh idea? How about a twist this summer "To-Go?" Last year, rumor had it as fire pit season heats up down at the beaches off El Segundo, Beach Mex would introduce a first of it's kind and any around… the "Beach Mex Bonfire Box"!!! Can you say brilliant? Who thought of this an incredible idea? It's like a picnic basket designed for those summers (or really any) nights, made to order, fresh, packed & ready to take down the fire pits and enjoy the waves coming in with family and good friends. But not just the fire pits, the ball games in the park, 4th Of July and all the countless parties and more coming up. It's an idea they've tossed around for a bit and let's hope the rumor finally comes true!
We just seem to prefer to walk on in and sit down for a meal. They've always had the greatest servers, so it's hard not to enjoy being there to eat, on top of the tasty food. It goes back to Kimberley, the first server we had there, a smile that wouldn't quit which really made you enjoy being there, feeling relaxed yet on top of your orders… who now happens to be Mrs. Nicol, with Scot and her having the two most adorable little ones. Since then there hasn't been a server we haven't been happy with. When I wrote the first blog a ways back, I mentioned Sherri who happened to serve us on many visits, one of our favorites who made mentioning important; again, attentive, on your order properly and a smile that wouldn't quit, genuine though, happy to make your stay there a good one. I could easily say almost the same description back when Gracie first served us. Not the norm these days in other places, but here at Beach Mex, it always seems to be. But from the first visit with Kimberley, with Sherri, and so on, there have been so many that great us with a smile, sit down for a few if there are time and chat. They know about you, it's genuine as I said. That's what makes Beach Mex special above the food, it's the people there that make it a neighborhood place, inviting. Michael and Mari, for example, are a couple over the years, and I will mention them since they were just two that always stood out for us, every time it seems. That example of knowing us by name, they ask us how things are going with our jobs, life etc. That extra touch before you've even gotten a menu makes such the difference. So that way I'm just mentioning our very first server, the one when I wrote my original blog and those on other visits. Some have moved on, and there are many new great faces greeting us now. There are too many others I can list, I don't want to name a bunch more and forget someone by accident, as they're all part of an amazing team. Those that serve us regularly know us and we adore them, we also hope you find your favs, which will be easy to do be easy to do.
You might see a bit of personal biased when it comes to Beach Mex that my wife and I have, but it's for a good reason. You see, early on we were such fans with Beach Mex, that back in 2011, after going there for a couple years, shortly after they opened, we told Scot that we were getting married in Puerto Vallarta. Being a destination wedding was special to us, but when we came back, we were thinking of doing a belated reception for all those that we couldn't have to join us "South of the Border". That's when Scot brought up keeping with our wedding theme, having Beach Mex cater our party for that authentic Mexican feel. It was such a great idea we were sold instantly. Scot & Kimberley personally worked with us on it, which we won't ever forget. They truly cared to make it a special night for us with their food and they certainly delivered. The reception was held at the then open BriXton – South Bay, thanks to Dennis the owner at the time and what turned out to be a small gathering turned into a large event of almost 150 people. We had members of Guns 'N Roses, White Lion, Quiet Riot, W.A.S.P. and more perform, let alone other rocks stars from Warrant, Cinderella, L.A. Guns and the list goes on that showed up. All of which along with the rest of our friends devoured the food. Yes, I used the word devoured, lol. Everyone lined up to try the food laid out buffet style, all of which was as delicious as it is served at the restaurant, and the minute they were done they circled back for more. We literally ran out of food within 20 minutes, it was hilarious. Everyone wouldn't stop raving about it, and best of all, many have gone on to visit Beach Mex themselves from that wedding reception of ours and now have become regulars. Needless to say, YES, Beach Mex does an amazing job catering from small to large events. Now add that to your list with them!
That night made us feel really happy, being able to pay back Beach Mex after all of the great meals, atmosphere, and fun they've given us over the years; knowing how many more now make it a regular stop for a bite to eat too. So next time you're in the South Bay, just minutes away from LAX looking for a great place to try, make sure you drop by Beach Mex. I think I've given you a few many reasons why you should, and you'll be glad you did.
BEACH MEX
409 E. Grand Ave.
El Segundo, CA 90245
310-356-6393
www.Facebook.com/BeachMexElSegundo