GRAND CENTRAL MARKET – DOWNTOWN LOS ANGELES
"A TALE OF TWO VISITS"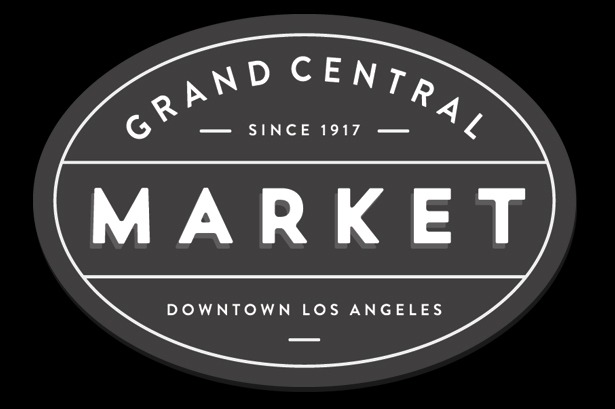 For those in Southern California somehow not familiar with Grand Central Market, let me take a bit to give a short history about the famed market place. Self-described in many of its own advertising as the "legendary" destination, a hefty description to say the least, however considering it opened in 1917, now celebrating its Centennial Anniversary and has been in operation ever since… I will say it at least deserves a "historic" tagline for sure.
A hundred years ago in Downtown Los Angeles the landscape was quite a bit different, as was much of the rest of the Los Angeles basin. Back then Broadway was the main hub for entertainment and commercial business for the growing downtown L.A. Right to the west were all the stately Victorian mansions up on Bunker Hill, where the rich & powerful rode the old Angels Flight to spend the day shopping in the open-air Market. It was a different time back then, but it was an instant hit with an exploding city like Los Angeles and in the 1920's the Market had already grown to over 90 vendors. Back then filled with everything from fish mongers & butchers, Jewish delis, original green grocers, as well as stands with all types of goods from coffee, cheese, flowers and eggs. As Downtown Los Angeles continued to evolve, so did the Market.
Fast forward to today in this ever-changing City Of Angels of ours and Grand Central Market is doing what it feels is to cater to an ever continuing growing city both in people and culture, especially with food knowledge and preference. Part of their "mission" lies in just that, celebrating the cuisine and culture of Los Angeles. They are out to "provide" Los Angeles as they say, with a "national-caliber eating experience", which basically means they want to highlight the best & greatest ingredients this state of California has to offer for one, and mix it with some of the best chefs and entrepreneurs. Now you have a little background of the history and knowledge of what they are up, I will also make sure to let you know about all, and I do mean all of the eateries & retail establishments at the end of this article, but on to my time spent at Grand Central Market.
First off let me state as the title says… "A Tale of Two Visits" Which is important. I first visited GCM about 2 years ago and below is a bit of that first visit, which at the time I must admit, I was greatly disappointed and didn't have too much of a desire to return any time soon. But, and I do say but, obviously I am writing now because upon my return I had a fantastic visit, worth blogging about and urging everyone to pay a visit down here.
Well on to my first visit as said around two years back… My wife had been working in DTLA for years and had always heard from friends going here, myself as well, great things, so we both had been waiting for quite a while with lofty expectations. What was I expecting, pretty much as it's made out to be, and even by most the web site photographs… a large open-air market place, filled with upscale and casual gourmet eateries, and exclusive to-go food shops & markets. A tall order, yet if filled, a fantastic concept and something I would be making my drive from living in the South Bay to all the time.
My wife and I arrive, do the usual, find a pricey parking lot a block or two away as if there is ever a choice in DTLA, make the walk over in the afternoon and we were finally there. Well the first shop we are in front was Grand Central Liquor Store, which mind you is no longer there BTW. (It has since been replaced by a revamped and upscale location named Courage And Craft, a boutique shop for artisanal spirits & liquors). I mention this for a reason, as a bunch of homeless guys were arguing over some change from a guy who walked out of the Market and had tossed to one of them, all the time while they were sharing swigs off of the ol' small pint in a paper bag. Ahhh, Downtown L.A. at its best. But wait, as quick as I was pass immediate judgment, there was instant salvation, Egg Slut!!! Genius Chef Alvin Cailan's creation which he co-owns, located smack in the middle, up front of the Market, where it should be. Let me make a quick disclaimer before you read on in my blog. Regardless what you take from this one on GCM, as with any blog, this of course is just one's opinion, that said, no matter what, you ever get the opportunity to visit Egg Slut… DO IT!!! In fact, I won't talk much more about ES as I plan on doing a feature specifically on them in the future. Egg Slut is just a small place that features several different egg sandwiches daily, but these are not ordinary sandwiches made from ordinary ingredients. Chef Alvin manages to turn the humble egg into gourmet creations, and if you don't believe me, just get down here and see for yourself.
Now that I've gotten Egg Slut out of the way it was time to venture into the rest of the Market. (Now it's also important to note, that since my initial visit, things have changed, and thankfully so.) Looking down into it, some sight for the eyes to see, the neon lights, vintage look, hustle & bustle of the people, pretty cool. However, this is where the saying of don't judge a book by its cover in ways can come into play. Nicole and I were quite hungry. I mean we wanted to sit down and have more than an egg sandwich, and with so many choices available we couldn't wait to let the struggle to choose just which place begin. Now Nicole being the vegetarian with food allergies shouldn't be a problem in a place like this, and me, well Mr. Meat Eater was ready to chow down, so we walked around for a bit. I found really only two places that I narrowed my choices down to. Though Wexler's Deli seemed ok, it really wasn't screaming out for me as different & unique being in DTLA to try. For me it was between Belcampo Meat Co and Berlin Currywurst.
I went with Belcampo due to hearing about them for a quite some time. After taking one look at their meat counter, I must admit, if I lived locally this would be a place to come for specific hard to find meats. Mainly goat, quail, duck, rare cuts of lamb and premium beef cuts. You just don't find these meats and cuts and most markets around the Los Angeles area, so this alone is worth coming to, but to find a place that has premium meat dishes right here to eat too, I'm in. I behaved myself though and was pretty mellow and only, as I say only, ordered the Pulled Lamb Belly Sandwich, which featured of course a succulent, braised pulled lamb belly, lathered with a Harissa aioli, topped with arugula and cilantro on a brioche bun. It may have only been a sandwich, but that was the first and won't be last time I have pulled lamb belly again.
It didn't help I was so hungry before I took my first bite, partially because Nicole finding her choice to eat, well, this wasn't as easy. With so many choices abound we thought it would be just as easy for her to find something. The choices were there at first, but to our surprise, it was amazing just how many didn't cater to her vegetarian food allergies. In a city like Los Angeles, and a place like Grand Central Market that advertises as being on the pulse of the city, you really would think it would be filled with so many health-conscious type places, but no. Now of course she thought she could have gotten a salad somewhere, but we wanted to get a real meal and but then she couldn't even find a salad option. For example, on a real meal for her, Olio GCM Wood Fire Pizza didn't have gluten-free dough or dairy-free cheese. Then we went to all the Latin cuisine places… Jose Chiquito, La Tostaderia, Las Morelianas, Madcapra, Tacos Tumbras A Tomas, I believe, most all of them cooked either their rice and/or beans in either lard or chicken stock. I mean come on now, how sad was that? This was DTLA!!! This is Grand Central Market!!! It almost got to the point of her just going to grab a coffee or Press Brothers juice. Like we couldn't have grabbed that at any Starbucks?!? This really had us rubbed the wrong way, and I had heard that from a few of our friends after our first visit, go figure. Well she really wasn't happy, I didn't blame her, so she had to settle on some rice & veggies at Sticky Rice while I ate my sandwich. Thankfully though just rice & veggies, it was still a good dish of that. Not the big meal we expected but at least we had food in our tummies.
*** Current update however and proud to say, that since then… Jose Chiquito, La Tostaderia, Madcapra and Olio GCM Wood Fire Pizza all now feature tasty salad options for example. Las Morelianas is no longer in business there at GCM. ***
I mentioned how cool the Market looked at first glance, and as we finally walked through out it, it more felt like reminiscent an enclosed San Francisco wharf market with an atmosphere of some Oregon marketplace. A more "earthy hippie" meets "trying to be trendy hipster" kind of location mixing in with a fast-moving metropolis. The actual "markets" within the Market are quaint, but just enough for the locals or someone grabbing a few items on the way home from work. I mean, the key to Grand Central Market has always been "location" and everything under one roof, so that is and does make it worth coming to. If you live in DTLA, especially if you work here during the day, plus looking to grab a "quick" bite or grab one on the go, this is the place. Living here, need to pick up just a few fresh things, this as well, is the place. But truly unique, really "thee place to be," upon my first visit, I just didn't see it, just not yet that was. Now again, some simple changes as any place seemed to be needed.
That brings us to our recent visit. It sure seems in a short time changes have been made. Now even on our trip there certainly were some bright spots, aside from Belcampo Meat Co and Egg Slut, at least for us as we walked all around. DTLA Cheese, which is a small cheese shop, carrying very hard to find selections, locally here in California and from a far. They featured select rare goat & sheep cheeses too, for those that have certain allergies to cows-milk, this is a great find. But that's not all, don't let the cheese counter fool you, they all prepare some great hot dishes. Such as their signature macaroni & cheese or their grilled three-cheese sandwich.
A new kid on the block and unfortunately due to both Nicole and I having to stay away from gluten, this makes this delightful place off limits to us for the time being, Knead & Co. Pasta Bar + Market. A fresh, hand-made pasta bar and market from Chef Bruce Kalman of Union in Pasadena, offers California renditions of Northern Italian classics. They make sure to tempt you with all their fresh pasta displayed in the glass case for your eyes and belly to observe. Now if they would just work on a gluten-free pasta, we'll make a bee-line onto the 110 and head to Downtown. There really are now so many other great choices and ones we are looking towards, including above as I mentioned Press Brothers Juicery, though we didn't get a chance to try, I've heard great things. It had a great menu with perfect options for what Angeleno's want right now, what a concept.
Now it's time for Berlin Currywurst to garner some praise. I mentioned on my first visit it had been between BC and Belcampo, and I knew I had to stop over again at Belcompo while here, so it was only fair I tried Berlin's to sit down and eat this time around, and not only am I glad, but so was Nicole. Yes, Nicole! Believe it or not as I was trying to decide which of the sausages I would order, she saw they had a vegan sausage and sides that worked for her. Off we ordered, after a weighty decision it was the Rind for me, a German beef sausage. Ordered "Currywurst", which was smothered in a orange-ginger sauce then topped with minced onions and sauerkraut. For Nicole, she ordered the Tofu Kielbasa, her Currywurst was prepared with a garlic sauce and topped with onions. Both of us staying away from gluten, we held the buns, which was not a big deal, but frustrating as we wanted to order a German pretzel each and sample all the German mustard with it. We did make sure to share an order of their homemade German Fries, crisp in texture and rich in flavor, they're not "French" fries, that's for sure. Had we only had room for a side of the sauerkraut salad, made with oranges & carrots, let alone for Nicole, she really wanted to try the Rote Beet Salad (minus the goat cheese is all). Finally, we had just enjoyed a nice meal at Grand Central Market!
Then it was a quick stop at Belcampo Meat Co. just to drool at their glass meat counters and see what specialties of the day they had. I was very happy to see they featured their bone broth, which for me having some health issues is a great remedy plus I had heard theirs was some of the best tasting and packed with goodness. The manager was right there to answer plenty of questions, set me up with a sample of that and few other items which lead to a bag of to go items. Lucky for me I had a full belly for Berlin's, otherwise it would have been a costly visit.
It never fails Murphy's Law kicks in, the minute we finish eating and leave Belcampo, though plenty to eat around GCM for myself, Nicole's prayers had been answered at GCM and our biggest complaint from the first visit had been addressed. Heralded Chef Ilan Hall, from Top Chef fame, who also was chef-owner of the now closed Gorbals in DTLA, recently opened Ramen Hood. A vegan ramen and pho restaurant, which includes gluten-free versions of all his well-known ramen dishes. Luckily for some reason they weren't open at the time and the chairs were up, so she wasn't too bummed. Yet, seems another visit just to eat here is worthy of a visit in the not-too-distant future for us. But more importantly, this is exactly the type of eatery GCM needed for a true, modern LA destination for the health conscious.
To be fair, there is still one comical establishment in GCM that seems so out of place, that I must mention it. One that a couple years ago we discovered upon our first visit, now more than ever, just doesn't' fit in here. I'm sure you've all heard of the term "bottom basement bargain store." Well I finally found one, literally. We were at the back of the Market and needed to use the restrooms, so we saw the signs pointing downstairs, as we made our way down, and I do mean down, we passed a sign for the Grand Central Discount Store. Now mind you, another compliment to how things have changed at GCM, that visit to the restrooms back then was the restroom journey in-itself, from the cloud of urine stench to the couple of homeless people using the sinks as make shift bathtubs. This latest visit the entire area was as clean as can be, obviously only patrons of the Market were using the facilities and there happen to be a security guard on duty when I went in. I strongly commend GCM for caring about something so simple but so very important to care for its customers with that.
Now back to my "store-out-of-place" tale. We were so curious about it so we had to go in. I will sum it up briefly. If you've ever popped into a 99 Cent Store, imagine the stuff that doesn't sell there, that must to be sent to another place and hopes it gets sold? I think this is that store. Comical in my summing up, yeah, but it's true, which I had to write about, because this is what I don't understand. Upstairs, here's this advertised hip Mecca of food eateries, top chefs that have arrived and so forth, yet in the back, take a few flights of stairs down and you can go on a shopping spree for old candles & plastic cups for pennies. Kind of entertaining I guess, maybe that's the purpose? I don't know about you, but I'm holding out for some big chef & nightclub owner to put together a turn of the century Speakeasy. Ok, maybe not due to the access and hours. Then with the whole theme of the Market, what about using that great space for a downstairs enclosed Farmers Market? Now if any of these ever happen, remember where you heard it first!
Oh, speaking of entertaining, I almost forgot. Entertainment is now a part of Grand Central Market. You heard me right. It's all about making it more of a destination. For example, all summer long depending on the week, there were "Movies On The Patio" at Horse Thief BBQ, Thursday night "Game Night", "Grand Central Fridays" with popular DJ's spinning and even "Sunday Night Jazz Series" with live jazz bands. The future is looking bright for things to do other than just grabbing a bite to eat or grabbing a few things to pick up at GCM it seems.
There are now quite a lot of places to eat, a bunch of great new & exciting places and well-established ones here at Grand Central Market, all of which I told you I would let you know about to visit, so here are the ones I didn't get to talk about in detail… for counter seating there's China Cafe, Golden Road Grand Central Market, Horse Thief BBQ, La Tostaderia, Madcapra, Olio GCM Wood Fire Pizza, Prawn, Sarita's Pupaseria, Sticky Rice, Sticky Rice 2, The Oyster Gourmet and Wexler's Deli. For a quick meal to-go there's Ana Maria, Bento Ya Japanese Cuisine, Jose Chiquito, PBJ.LA, Roast To Go, Sari Sari Store, Tacos Tumbras A Tomas and Villa Moreliana. For all of you that are coffee & sweet buffs, there's G & B Coffee, La Huerta, McConnell's Fine Ice Cream & Valerie Confections Bakery & Cafe. Need some fresh produce, exotic spices, craft alcohol or what not, then try Chiles Secos, Clark Street Bread, Courage And Craft, District Market, La Case Verde, La Huerta, Torres Produce and Valeria's. Lastly is you're really in the need for a gift for someone, heck, you even can find something at Grand Central Jewelry.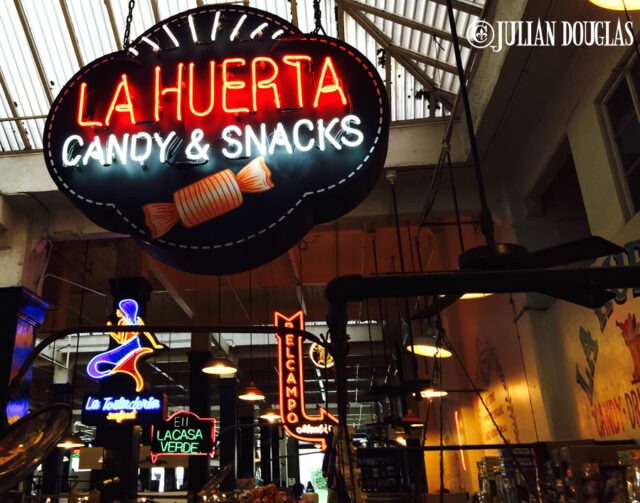 "A Tale of Two Visits" indeed. Since our first GCM has added some premier eateries with renown chefs, yet places that didn't fit in well are obviously gone. From homeless people running amuck and foul odors to a bright finish and vibrant people all about, to a calendar of events with live music to fun game nights, GCM is continuing in such a short time to make great strides. Summing it all up, choices, that IS what is truly grand about Grand Central Market over-all. There now seems to be an abundance of places to see and choose from to eat, shop and now even things to do. If you live around DTLA, you're already familiar with GCM, if you live elsewhere, you may not be yet most people always want to check out something cool and new. Well Grand Central Market is that place, though being a 100 years old now it's not so new, but that's what makes it even more worth coming to, it's been reinvented. When it's all said and done, what-ever you take from what I've written, both Nicole and I really can't wait to return and I hope you choose to head on down there too soon.
GRAND CENTRAL MARKET – DTLA
317 S. Broadway
Los Angeles, CA 90013
213-624-2378
www.GrandCentralMarket.com
www.Facebook.com/GrandCentralMarket
www.Twitter.com/GrandCentralMkt
www.Instagram.com/GrandCentralMarketLA