Part 3: Day Three of NAMM, Great White & Gabbie Rae, Flashback Heart Attack and more.

It's hard to believe Saturday, and Day Three of NAMM was upon us. Now I see why my wife Nicole chose to head back home before the Friday night shows began. I was already exhausted, yet, for the second morning in a row, not hungover. I thought I was dreaming when I woke, lol. Except my broken toe made sure to have me wide awake getting out of bed, to remind me that I wasn't dreaming after all. I actually slept rather well, which isn't easy for me to do without Nicole by my side. In fact, the only times we've ever slept apart since we moved in together six years back, have been while I was NAMM. I know, how cute. Well what I forgot to mention in my "NAMM Part 2" Blog, was that after the great missing business cards debacle of the past days, it finally came to an end when we had gotten back to out hotel room late Friday night.
Finally, I had my new business cards in hand, so it was time to get over to the convention and touch base with my main contacts and really network properly. So into the shower I went and it was breakfast time, though around 11am, in case those that know me truly thought I could be anywhere before noon. Today, we made the dreaded mistake of choosing convience, which was Denny's. If I'm to properly write about my NAMM adventures, this Denny's visit has to be documented. Though I will admit I already did a 1 out 5 star review on Trip Advisor.
This is my blog, so if I want to use it to rant, then it's mine to do so, and here I go. First let me say, Denny's is Denny's, you usually know what to expect, a fairly decent breakfast for example, at a good price and alright service. Anything above that is a bonus. This visit, no bonus, lol. Bo and I were sat right away by a young gal, can't remember a smile or not, but no biggie. After about 5 minutes a server named Joe came up, asked if we needed anything to drink, I said 2 waters with lemon, and before I could ask about OJ, he was off. A few minutes later with water in hand, he goes to take our order, and with pad in hand as we are telling him what we would like, he sees over his shoulder, in a near by booth, a kind of pretty, young woman, and at that moment, literally says to us, "excuse me for a minute", and leaves us to bring her a menu and wait for her to give him her order. The funny thing was, she had a young child sitting across from her that Joe didn't see at first. We're guys, we knew just what he was thinking, lol. Well he chit chats with her for a few minutes till she gives him their order, then he goes into the kitchen to put it in. Then, he finally returns to finish taking OUR order. Pathetic, but what ever. When we finally received our food, I wanted to complain about my eggs being a bit burnt, but he never returned until he brought us our check. Of course he went to see how the lady was several times. Endless to say, he didn't receive a 20% tip. Ok, I feel better now getting that off my chest… Back to NAMM.
Saturday for NAMM at the Anaheim Convention Center is just plain crazy. It's the biggest day there, due to all those who finally got hooked up with passes, who really didn't need to be there in the first place, but now could enter groupie mode. Between those stopping to take pics with every wanna be rock star, stand in line waiting to get an autograph with an actual rock star, or better yet, us getting whacked by either unnecessary filled to the brim, rock hard backpacks, or run over by not needed rolling small suitcases. For goodness gracious people, carry your damn bag like normal people. I'm thinking maybe I did need to drink more after all to cope with everyone. But alas, we hung in there. I was able to hand out a lot of biz cards, follow up and get a little more business taken care of, knowing I played it smart, doing the bulk of my biz on Thursday, and most the rest on Friday. I had 2 big shows this night, with Great White at House Of Blues and hosting the After NAMM Party at the Hilton Anaheim, so I was able to do quite a lot of networking for the shows. That said, Bo and I decided to head out early to the hotel, relax more than normal, grab a nice dinner, then do the night up once again.
NAMM being NAMM, meaning something always seams to go on, and on our short stroll back to our hotel turned into some drugged out psycho yelling at people on the street, but of course choosing us to start up more with. Long story short, not that I'm good with doing that, but as the nut job tried to start a fight with me and kept approaching, I had already seen the Anaheim Police and hotel security starting to surround the area. A few minutes of me avoiding him getting within striking distance and stalling him, the police finally snuck up behind him, handcuffing all in one swoop. The police thanked me, wanted to know if I wanted to press charges, but felt, let him sleep it off, they then asked for my card for contact if needed, so was happy to use my new biz cards for this. On to the hotel we went, and kicked back for a bit. We usually never have this kind of time, so it was nice. After an hour or so, we thought we would head to Downtown Disney early, after all it wasn't even 6:30pm yet. So to the hotel lobby we went, had them call us a cab, and well… due to the madness of NAMM around, the hotel clerk calling 3 cab companies and over an hour later, I finally pulled out my iPhone, tapped on Curb (taxi app) and within 3 minutes, a cab arrived, go figure.
By now House Of Blues was getting packed, which meant there was an hour wait just to sit down for dinner, so we walked around Downtown Disney, and the first place we went into, Naples Ristorante, had 2 seats at the bar, and we grabbed them quick, Bo & I both ordered the Chicken Parmesan, which was great. No wait, nice sized portion and delicious. The bartender who served us was a nice guy too, especially dealing with the unruly tourists sitting next to us. I'll leave that there as not to offend any more people during this Blog, lol. We're glad we tried this place and I'll be back for sure another time.
After full bellies, we walked back next to House Of Blues, grabbed our tickets, again, met up with our huge entourage and headed in. Two nights in row at House Of Blues and no complaints on my end, nor rock fans of these shows during NAMM. It was truly an honor to have worked on Lita Ford & Warrant the night before, and Great White this night. I plan on writing about House Of Blues – Anaheim soon, I can't help not to with it being such a great venue. Now back to the show. Since we got in HOB relatively early, we had a chance to see the opening act, which hardly ever happens with us, but I'm glad we did. Gabbie Rae, an unbelievable 16 year old lil' rocker, and I mean this young lady rocked. It takes a lot to impress me, seeing I've been in the music industry for probably more years than the age of her parents. But Gabbie was a breath of fresh air these days. A great pairing, with Great White headlining, a band as strong now as they were 30 something years ago, to have this gal bring such youthful exuberance to the night. With her combination of genuine energy and a voice you've got to hear for yourself, there's no question why members of Queensryche, Stryper, Halestorm, Outkast and more, let alone yours truly, have to say, you've got to check out this rising star.
After Gabbie, I was really into this night quickly and it was time for Great White. The band and I go back to their early days, especially when the South Bay of L.A. was their stomping ground. That made this show a tad more special, so many are when I've known the artists for so long. Call it a bit of being biased, but it's more a sense of being proud of friends when they're at their best, and tonight was just that.
The curtain opened to a smoke filled stage and founding member, lead guitarist Mark Kendall tore right into the chords of "Desert Moon", and the beats hit with fellow founder, drummer Audie Desbrow. Their guitarist since '86' Michael Lardie, along with current bassist Scott Snyder, joined in as lead singer Terry Ilous started belting out those familiar lyrics. You can usually tell how a show is going to go by the first song, and Great White was on top of their game.
From that point on it was a sheer greatest hits show, going into early hits "Lady Red Light," "On Your Knees" and "Face The Day," then to one of my favs, the sultry "House Of Broken Love." It was easy to see all the girls in the House loved the groove of that classic as I did… well maybe a bit more, by the sight of swaying hips, lol. That lead into one of the 80's most known power ballads, "Save Your Love," and Terry continued to master the Great White hits. I had always been a big fan back in the late 80's of Terry's original band XYZ. With his amazing voice and professional persona on stage, it's easy to see why he's been singing for them for 5 years now.
Most fans know there's currently 2 versions of Great White performing these days, but the reasons there are, is the bands' business and not mine. My job is one, to promote the show best I can, and it's up to the fans to come or not, seeing this sold out night, showed people were here to see "Great White" play. Secondly, my other job now is writing about the show, and what was obvious, is that the crowd that packed House Of Blues tonight couldn't get enough of hit after hit as I myself was.
The hits kept coming with "Mista Bone," "The Big Goodbye" and "Can't Shake It." Song after song, the band delivered, putting on a clinic of what performing rock 'n roll is all about. Of course Great White has an advantage over some bands, being able to perform a set list of nothing but hit songs and that they did. Especially wrapping up the night with their two biggest hits of all time, my all time favorite, "Rock Me" and of course the MTV smash "Once Bitten, Twice Shy."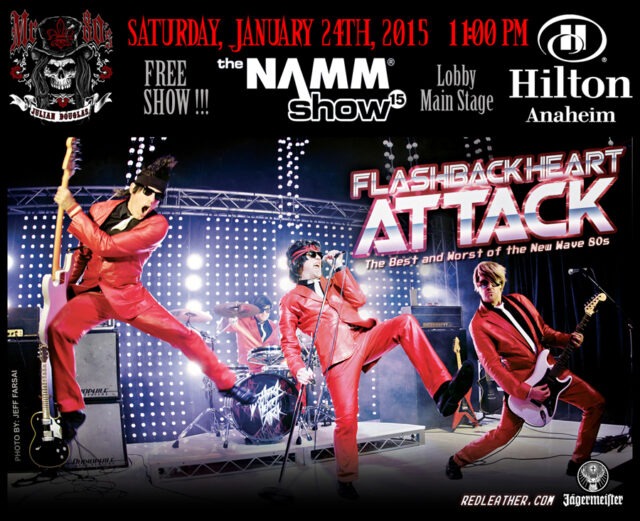 After such an incredible show. There wasn't anything I wanted more but to head backstage and catch up with the guys, but there was another stage I needed to get to. The main stage of the lobby at the Hilton Anaheim to host the Official NAMM After Party, featuring Flashback Heart Attack.
Flashback Heart Attack, Orange County's premier cover band of the best & the worst of the 80's New Wave and more. I've had the good fortune of working with them for several years now, and NAMM each year is the pinnacle. They have moved up the ranks with NAMM, headlining two years back on Thursday night, headlining last year on Friday night and this year finally slotted in for the main Saturday event. The boys, all clad in red leather suits, black skinny ties and dark shades were ready to rock the crowd, and what a crowd it was.
The only thing needed was me. So I took the stage, and in grand fashion with a roaring audience, introduced them. Chaz Delight, Don Bronze, Brock Lee Hudson and Jerry Skiddz kicked in the hilarious antics from the get go and pounced into "I Melt With You" and instantly the NAMM crowd was into them. By the time they played "Just Can't Get Enough," "Tainted Love" and "Just Like Heaven," even the hard core rockers were singing along to the New Wave staples.
Within the first notes of The Outfield's "Your Love" a bunch of feeling happy girls in front of the stage started climbing on up. With drunk dancing girls and a screaming crowd, the boys went into "Highway To Hell." If there was someone in the crowd still standing with their arms crossed, that changed now.
The party continued with tons of jokes and crowd participation, then more 80's classics, "Let's Go Crazy," "Personal Jesus," "Don't Change" and then "Whip It." It's one thing to play all these sing along, dancing, 80's tunes, but Flashback Heart Attack are actually seasoned musicians, so they had the songs nailed. Now they were ready for a little surprise, and they brought up to the stage, Clive Farrington of the original 80's band When In Rome and he sang their major hit with the boys… "The Promise." You could see crowds of people on all the upstairs floors around the lobby atrium, all into the show more than ever.
The Hilton Anaheim was ready for last call, and the band had time for one or two more, so "Here I Go Again" was up next before closing it out with "Don't Stop Believin'." I hopped on stage and grabbed the mic one more time, realizing this was the last official NAMM party of the weekend. The place went nuts, and we closed out an incredible evening, let alone weekend.
I raced out to the crowd to chat with friends, have a Jager or two, nab a few pictures, all before security started their sweep. A great moment, while hanging with Flashback, I told them how Lizzy Borden loved them, they thought I was full of it, so I brought him over, next thing you know they enjoyed a drink and BS'ed for a bit. Just another reason to love NAMM. So I finished off my last drink, and with the house lights on, Bo and I headed back to the hotel. On our walk, we decided we were done. Sunday at the convention wasn't going to happen, and that was fine. My time was handled well, 3 days of convention, 3 nights of serious fun. Lots of business conducted, great networking, many friends… NAMM 2015 was my best NAMM yet. Until next year…