RAGIN CAJUN CAFÉ & MOONSHINE BAR – REDONDO BEACH, CA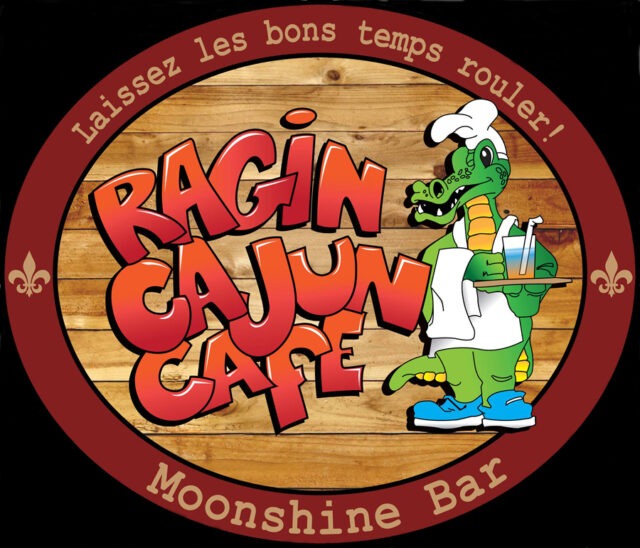 To say one's roots in Cajun cooking are something special is one thing, but historic, that's another. Ragin Cajun Owner, Stephen Domingue's family roots in Cajun cooking, date back in Louisiana to the end of the 1800's. His culinary pedigree is in a league of it's own. In fact you might be familiar with a relative of his, B.F. Trappey, creator of a little ol' sauce made from Tabasco peppers on Avery Island. Well over a 100 years later and his original Louisiana's Hot Sauce is still on the market today. His famous sauces, beans and Cajun goods are a staple throughout the state. With many of his family members working with him, one of B.F.'s granddaughters, Mary Trappey Domingue, better known as "Miss Mary", continued the tradition, by pioneering several Cajun dishes, and to this day, still teaches classes in Lafayette, Louisiana.
That brings us to her son Stephen, who moved to Los Angeles back in the late 1980's. Missing the food of his homeland, it wasn't long until he had the chance to bring true authentic Cajun food to California and in 1992 created the Ragin' Cajun Café. With the help of Mary and his sister Jeannine (who's still working in the latest establishment), they would run one of Hermosa Beaches go-to food destinations for 18 years amassing a loyal following with locals and out-of-towners alike.
Then in a stroke of half perfect timing, half sheer genius, as the lease was expiring on their location, Stephen started his Ragin' Cajun On Wheels food truck and shortly after won a slot on the debut of Food Network's, The Great Food Truck Race. Although he didn't win, seizing the opportunity to pioneer the Cajun style of cooking once again, gained him an immense popularity in what he was doing. By the time he had to move out of the Hermosa Beach location with his café, he had already won six consecutive food truck competitions.
Expanding his food truck service led him to current day. With the demand for sit down enjoyment of his food, in July of 2014, Stephen open his latest restaurant, Ragin Cajun Café & Moonshine Bar in Redondo Beach, California. An instant success could be easily predicted, with just the looming anticipation alone, for quite a while, and of course his new place was a smash hit. All of Stephen's classic Cajun and Creole dishes were back, many of which were still holding pat on his food trucks, but leave it to him to even add some more Louisiana treats. If you're a fan of authentic Cajun/Creole fair, all the staples are there… Jambalaya, Gumbo, Red Beans & Rice, traditional Po-Boys (Chicken, Shrimp, Crawfish or Catfish), Crawfish Etouffee, BBQ Shrimp, Fresh Oysters, Hush Puppies, Beignets and the list goes on. But Stephen didn't want to stop there.
Now you can also find more back home favorites like Alligator, Catfish Bites, Beef Brisket or Pork Chops smothered in Brown Gravy, Gumbolaya (Chicken & Sausage Gumbo poured over Jambalaya), new Po-Boys (Soft Shell Crab, Oyster or Mushroom), Bayou Bisque (Chicken, Sausage & Corn), Seafood Bisque (Shrimp, Crab & Corn), Blackened Cajun Rib Eye Steak or Salmon, Deep Fried Pickles and even Bacon & Cheese Cornbread.
Don't even get me started on their deserts… beignets and a whole lot more. Oh, and along with new additions, there's now many Veggie, Vegan and Gluten-Free items available too.
We had the opportunity to be a part of the Grand Opening Weekend festivities, and Ragin Cajun didn't disappoint. Well maybe a little. How you ask was this possible? It was so crazy busy Friday, Saturday, and on Sunday evening when we arrived, that a few of the new specialties I was foaming at the mouth to try… the alligator, beef brisket AND pork chops in gravy, we're sold out. Was I bummed? Of course, but it showed what a hot hit they were in such demand let alone made for an excuse to come back. I did just fine however with all the food I did have. From my mixed platter of fried crawfish, shrimp and catfish to a huge bowl of red beans & rice with andouille sausage, I was a happy camper.
I'm always easy to please when it comes to Cajun/Creole cooking. My wife, the vegetarian with gluten & dairy allergies, not so much. However, maybe being Southern California for so long has Stephen aware more than some of his other Louisiana transplants of food allergies and dietary changes these days.
If the food choices were just it, Ragin Cajun would be a spot to try. But then you add in the quality of the products, the care in preparing it and the taste of the food when it hits your plate, then it's a place to make sure you visit. But it's about more than just the food.
Oops, other than the Moonshine Bar, YES, he features a very nice, mosey-on-up & enjoy some down-home, Southern Moonshine favorite concoctions and other premium cocktail offerings but then there's the charm.
From the décor, all brought back from Lafayette, to his staff and their amazing service. If you've been to the South, let alone Louisiana, than you understand what I'm talking about. And here you will have it once again. Adding to our night was our server Jennifer. It turns out my wife and her went to school together, going back to when they were in grammar school. The power of Stephen I guess, really bringing people together, lol.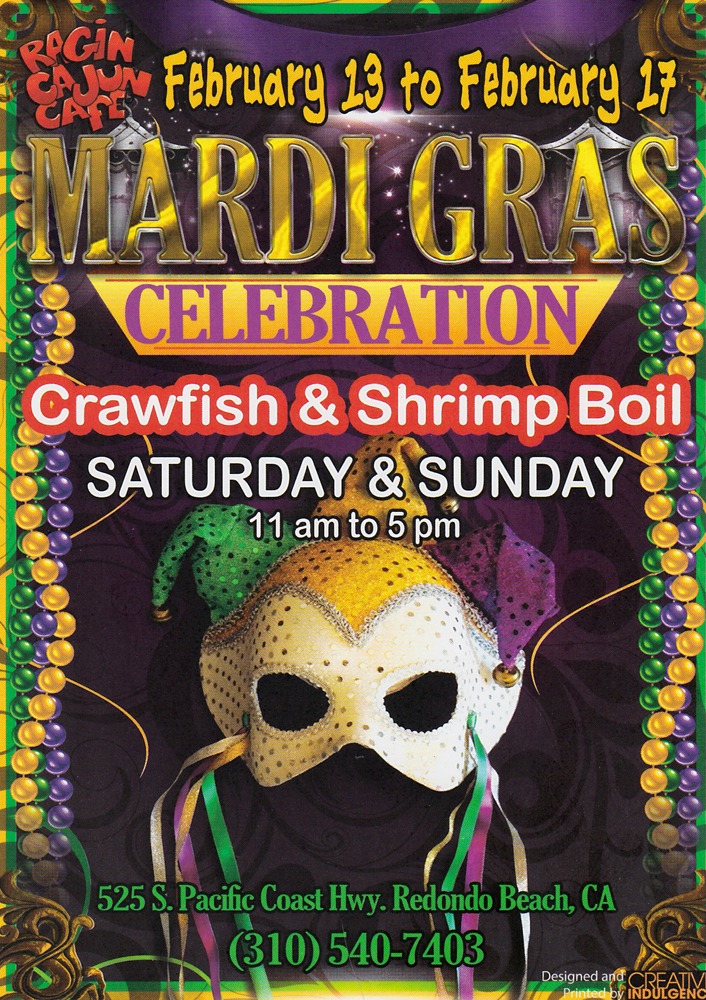 Life can get hectic, and we hadn't had a chance to get back as soon as we wanted to but when we realized we weren't going to get to New Orleans during the last Mardi Gras weekend, we made Ragin Cajun our destination instead. We invited a few friends and headed down on the Sunday night before Fat Tuesday. They close at 10pm, and though we didn't get there until around 8:00pm, the place was packed and jumping. I literally mean jumping, as Stephen had an authentic Zydeco band playing inside, including a washboard player. True musicians from Louisiana, playing all the Cajun hits that I love to hear in every bar during a visit to The Big Easy.
They cleared a spot for us right away and somehow within minutes of sitting down the server had already taken our drink order and Stephen had brought out two huge bowls of the chicken & sausage and shrimp & crab bisque with a plate of fresh bread. He then filled us in on the specials and we dug into the bisque's figuring out what to get.
This time they had my alligator, and it didn't disappoint. Such a temperamental meat, but they had it fried to perfection, tender as can be.
Though as busy as it was, I was cursed again. Just as I was planning on the beef brisket in gravy, they were sold out again. I shall break this curse once and for all!!! The upside to this was they added a new dish since our last visit, his version of Surf & Turf… BBQ shrimp & blackened, bacon wrapped beef skewers.
One of our friends did at least get to try the pork chop in gravy, and he was very pleased. So add that to my list of dishes to try. We felt like we were right there in the Crescent City with that meal, especially with the band jamming away and all the Mardi Gras fun taking place. Heck, with plenty of leftovers, beads in hand and getting some of his incredible, homemade, bottled hot sauces to go, the night was locked in as a wonderful evening with friends once again.
We've lost the dining pleasure it seems in many places to eat these days. I mean when you gather with family and friends, to enjoy great food and great atmosphere, you bond and connect. Not many places have that real experience anymore. But don't fret, it still exists right here at Ragin Cajun Café. A place not only to try, making a point to come to, but also return again and again with more and more friends and family.
As they say in Louisiana and especially here at Ragin Cajun Café & Moonshine Bar… "Laissez les Bon Temps Roulez" or "Let the Good Times Roll."
RAGIN CAJUN CAFÉ & MOONSHINE BAR
525 South Pacific Coast Highway
Redondo Beach, CA 90277
310-540-7403
www.RaginCajun.com   www.Facebook.com/RaginCajunCafe