THE BLOODY MARY FEST – NEW ORLEANS, LOUISIANA
3rd ANNUAL NOLA BLOODY MARY FESTIVAL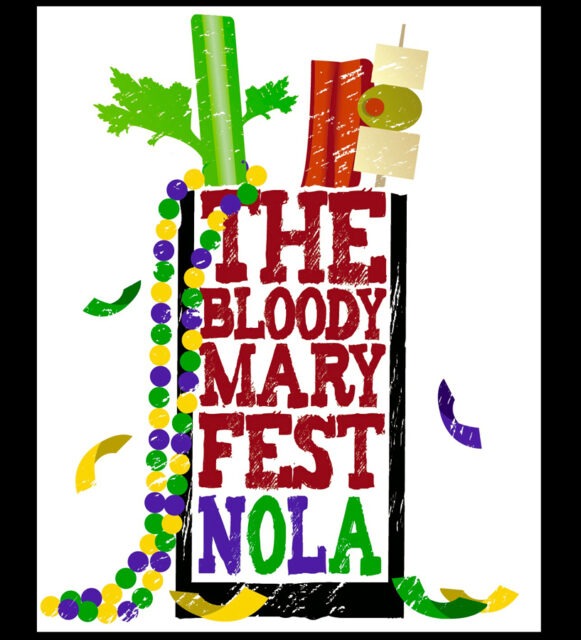 If you're going to hold a Festival honoring a cocktail, there's no better place than the city that most people associate with inventing the cocktail… New Orleans. What cocktail embraces the diverse flavors of this town more than the Bloody Mary? Thus, for the third year in a row, The Bloody Mary Festival returns on Saturday, November 2nd and Sunday, November 3rd, 2019.
In a city that's famous for creating some of the most iconic cocktails… Sazerac, Grasshopper, Brandy Milk Punch, Ramos Gin Fizz, Cafe Brulot, Vieux Carre, Absinthe Frappe, Hurricane, and Hand Grenade to name a few, it's only fitting an entire weekend be dedicated to the Bloody Mary.
NOLA (New Orleans, Louisiana) is a town rich in history, architecture, culture, music, food, and drink. It's one of the nations only locales to feature true original cuisine thanks to the region's Cajun and Creole heritage; that heritage thrives in its use of spices and unique flavors making New Orleans Bloody Marys like no other.
Because of this, The Bloody Mary Festival in its third year truly does separate itself from the rest of the circuit in this writer's mind and as a Judge, NOLA infuses it's unique history and heritage in everything it does, elevating it above other Festival stops. Although I personally have only attended and Judged the Los Angeles and New Orleans Fests, over the past seven years, creators Evan and Yunna Weiss (founders of the Bloody Mary Liberation Party), have brought them to Atlanta, Austin, Brooklyn, Dallas, Denver, Hudson Valley N.Y., Milwaukee, Minneapolis/St. Paul, Nashville, New York City, Portland, San Diego, San Francisco, and Washington D.C.
There's just a mystique in general with The Big Easy as opposed to most other metropolises, that speaks through their Bloody Marys.
The life of a cocktail tends to be cyclical and the Bloody Mary has made such a huge resurgence. As I've written in the past, where specialty cocktails, certain spirits, and craft beers have either become trendy or grown in popularity, the once go-to hangover cure and morning-after drink have become not only a multi-million dollar mixer industry, but Marys have become an anytime drink.
Where once there was one or two "known" brands of Bloody Mary Mixers found on the store shelves, there are now an endless amount of major companies from small-batch to family establishments, all vying to grab the consumers' taste buds.
The days of a mix of tomato juice, Worcester sauce, lemon, salt, and pepper, topped with a stalk of celery are gone! Don't believe me? Well, this is just one of the many reasons to stop by The Bloody Mary Festival… to taste the best and original takes of what NOLA has to offer from its most famous bars and restaurants to its most known bottled mixes and spice blends.
There are over twenty competitors, ten competing each day, with 2 "seatings" from noon until 2:00 pm, then a half-hour break for the competitors to reset and refresh, then again from 2:30 pm until 4:30 pm. Either entry on each day, you're sure to get your chance to sample each and everyone, and if it's anything like last year, we're all in for another great Festival.
Last year will be hard to top with NOLA's legendary Chef Ms. Linda Green, aka the Ya-Ka-Mein Lady (www.NewOrleansSoulFood.com), pulling off both the "Best Bloody Mary (Original Recipe)" and Saturday's winner for the "People's Choice" with her "Yakamary." I personally was quoted as saying… "One sip of her Bloody Mary was literally like tasting all the essence of New Orleans."
Ms. Linda is not returning to defend her crown, so will 2nd place winner K-Paul's Louisiana Kitchen (www.KPauls.com) who are returning have their shot at 1st?
They have the historic pedigree behind after all!
Adding to the excitement, last year's "Best Bloody Mary (Traditional Recipe)" winner Ruby Slipper Cafe (www.TheRubySlipperCafe.net) is also returning,
as is the judge's 2nd place winner, Oceana Grill (www.OceanaGrill.com), ready to defend their title as the Sunday Winner for the "People's Choice."
A few other 2nd place winners for the "People's Choice" are returning, such as Ole Saint, New Orleans Saints Deuce McAllister popular taphouse (www.OleSaint.com), The Roosevelt Hotel Bar (www.TheRooseveltNewOrleans.com)
and Geaux Creole (www.GeauxCreole.com). There's no question they want to move up to the top spots now! Once you taste theirs, you'll know why they were all finalists.
But standing in their way is returning local favorite and nightlife hotspot, The Maison (www.MaisonFrenchmen.com), whose Bloody Mary already has a huge local following.
Plus, many newcomers are ready to sip it out… The Country Club (www.TheCountryClubNewOrleans.com), Wakin' Bakin' (www.WakinBakin.com), Cafe Navarre (www.CafeNavarre.com), Bobby Hebert's Cajun Cannon (www.BobbyHeberts.com) along with mixers The Bloody Buddy (returning) (www.TheBloodyBuddy.com),
Demitri's Bloody Mary Seasonings (www.Demitris.com), Cajun Legacy Bloody Mary (www.CajunLegacy.biz) and Middlebar, a Los Angeles award winner ready to take on NOLA (www.Middlebar.com).
Last year the garnishes were as social media-worthy as anything you could imagine. From Southern favorites like chicken and waffles, pickled okra and green beans to hard-boiled eggs, shrimp or Tasso ham and cheese. Yes, there was a winner for Best Bloody Mary Garnish too… Spotted Cat (www.SpottedCatMusicClub.com) took the honors. Instagram will be lighting up, so get ready for all the hashtags… #TheBloodyMaryFestNOLA, #BloodyMarys, #DayDrinking and more!
The Bloody Mary Festival returns to The Howlin' Wolf in NOLA's Warehouse District. By night, it's one of the town's most famed live music hot spots, and even during The Fest, there's a local band playing music to keep the entertainment going.
The Howlin' Wolf has some great food from their outer bar, the Howlin' Wolf Den, to grab while you're waiting in line to come in, or to soak up some of those Bloody Marys after. In fact, they've won awards for their Cheddar Bacon Beignets. I'm a bit partial to their Alligator Sausage myself.
Don't you worry, there's plenty of food inside! Including some return favorites, like NOLA's Aunt Sally's Pralines (www.AuntSallys.com), almost worth the visit for samples of those iconic treats!
Returning also is Cypress Grove Cheese (www.CypressGroveCheese.com), the award-winning cheese, with always a line of patrons waiting for a sample.
Newcomers, Big Easy Bucha for some healthy kombucha to balance you during your day (www.BigEasyBucha.com), Congregation Coffee Roasters for flavorful pick me up (www.CongregationCoffee.com), Pickled NOLA (www.Facebook.com/PickledNOLA), Slap Ya Mama Cajun Products, which every local has at least one bottle of spice or sauce in their home (www.SlapYaMama.com), The Sassy Chef (www.Facebook.com/TheSassyChefNOLA) and more.
There's also a lot of buzz, talking ahead of time, but I'm sure another type of buzz the weekend of the Festival, of this year's Vodka sponsor… Tito's Handmade Vodka (www.TitosVodka.com). All the Bloody Mary's will feature America's original craft vodka and Gluten-Free for those like my wife and me who do actually care. We appreciate The Fest does too!
It's not an easy task to be a Judge, and I as mentioned being one, I'm honored to return again this year. I take my duties seriously, and it's not easy with such serious competition in New Orleans. Luckily, I'm joined by a few other awesome Judges. Returning with me is my good friend NOLA's famed drink aficionado, host and founder of NOLA Drinks, Bryan Dias (www.NOLADrinks.com).
Joining us this year are NOLA locals Nicole Caridad Ralston, founder of Off The Eaten Path NOLA (www.EatenPathNOLA.com) and Carla Pesono, host of Carla's Kitchen (www.CarlaMedia.com). We promise to do The Crescent City proud.
But, we're not the only judges. Actually, everyone who attends is a judge! That's right, every attendee gets a chip to drop in for their personal favorite on the day. Each day a "People's Choice Award" is handed out on top of us four judges.
With The Bloody Mary Festival this year falling on the weekend just days after Halloween, you know the vibe will be turned up another notch. If you're in NOLA, you must stop by! If you're looking for something to do still this weekend, it's not too late to fly out from where ever you live, grab a hotel and spend some time with us.
Two fun-filled afternoons of Day Drinking in New Orleans at The Bloody Mary Festival… all you can drink Bloody Marys, you get to be a part of the Judging, sample great Food, fun live Music and Memories to last a lifetime. What more could you ask for?
As they say in NOLA… "Laissez Les Bon Temp Rouler" and for you non-locals, "Let the Good Times Roll."
THE BLOODY MARY FESTIVAL – NEW ORLEANS
www.TheBloodyMaryFest.com
www.Facebook.com/BloodyLiberationParty
www.Instagram.com/TheBloodyMaryFest
www.Twitter.com/BloodyMaryFest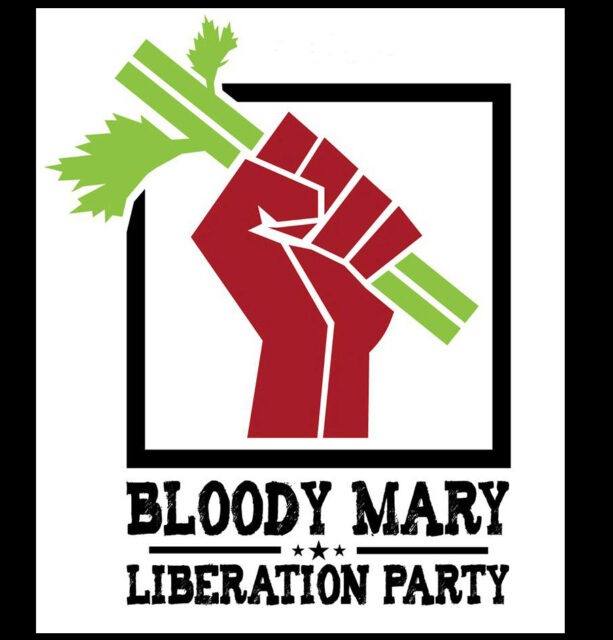 THE HOWLIN WOLF NEW ORLEANS
907 S Peters St, New Orleans, LA 70130
504-529-5844
www.TheHowlinWolf.com
www.Facebook.com/HowlinWolfNOLA
www.Instagram.com/TheHowlinWolfNOLA