It is the beginning of September and in the LA, Orange, Riverside, and San Bernardino Counties, just to name a few, there is still no indoor dining since the July 4th weekend shutdown. Well, correction, there's a handful of restaurants if you search far and wide, and one of those is The Steakhouse at Agua Caliente in Rancho Mirage.
With so much going on since the initial shutdown in California back in March, who would have realized of the many liberties we would grow to know in life, we would miss so much, one would be the simple pleasure of dining indoors at a restaurant. Whether it be a breakfast nook, a casual burger joint, or a five-star, upscale restaurant, we Californians do miss it so.
For a short time back in June, we had a small tease, when the state started to slowly reopen. But just like that, within a matter of weeks, we were told it was not safe for us to eat indoors, only outdoors. I am not a scientist, and I am certainly not here for a debate. I want us all to be safe. But, with most of America safely eating indoors, we have not been able to, which brings me to this rare treat I discovered.
Indian Casinos are open for business inside. Two of those in the Coachella Valley, are the Agua Caliente Casinos in Rancho Mirage and in Palm Springs. The Resort Casino in Rancho Mirage has been a favorite of ours for years. Unlike Palm Springs, they have a huge, beautiful hotel, plus the casino, of course, restaurants, coffee shops, bars & lounges, and more. Lately, most everything inside has opened as well.
Just last year I wrote an extensive review of my wonderful first two visits to The Steakhouse. So, I won't repeat myself with all the information on the casino and the restaurant at this time, including all the great pictures and of course the fantastic stories. I will just include the link at the end of this one at the bottom for you to check out. Especially, some of the other incredible dishes we loved.
The main reason once again for me writing about this in the first place is quite simple. Right now, and for a bit, this is one of the only places within hundreds of miles to experience indoor dining and, it's important for me to let you know, the incredible lengths that Agua Caliente is going to assure everyone has a safe visit.
So, let me get into that. Because right now, one way or another, we all want to know our health is being looked after. Agua Caliente is going the extra mile to assure that is so. For example, before you even enter the casino, en route to The Steakhouse, they have a centralized guest entry and screening with state-of-the-art temperature kiosks set up. Masks are mandatory for everyone's safety entering the casino and while you are there, but they kindly provide disposable ones just in case you forgot yours. That's a pretty nice courtesy if you ask me.
All the standard practices you would expect are in place as well, through-out the casino, which is operating at only 50% capacity, to The Steakhouse, with constant sanitizing, social distancing practiced along with tables in dining and gambling areas. Agua Caliente truly does care about your safety and their staff. They want you to know, there should be no hesitation coming out here.
That brings us back to The Steakhouse and our meal. With one last safety tip. Once you are seated, you may remove your masks. However, they do ask you to place them back on when your server or bus person is at your table.
Now, we have eaten at The Steakhouse several times. Most of our trips out to the desert over the past year in fact. Now, for me, I make it a point to try a different entree each visit. So, this would be no different on this occasion. The problem is, it is never an easy choice, seriously. For a carnivore, the steaks they offer are some of the best anywhere in the state. My choice in just a bit, however.
Since obviously it had been quite some time since we had been back here, we missed a few of our favorites on the menu. Thus, we decided to start our meal and end our meal with two of those. Starting things off was The Steakhouse Salad. It's their version of a Cobb, using butter lettuce which is my preference of the many lettuces, bacon (on the side, since we split and Nicole, my wife is a vegetarian), egg, blue cheese, avocado, tomato, and covered in what makes this salad so spectacular… their signature Herb-Honey Dressing. In fact, every time we are here, I tell myself to ask if I can get a pint to-go, and I forget. It is that amazing! And yes, once again I forgot to remind myself to see about getting some of it to-go.
Now it was time for our drinks to arrive. Nicole chose a glass of her go-to Cabernet Sauvignon, Justin, and I went with Prosecco as always, to start enjoying before my appetizer arrived. This time I tried a split of the Val D'Oca. Another perfect, light Italian choice. It would pair great with everything coming.
That appetizer would be the Bacon-Wrapped Stuffed Shrimp. You can't go wrong when you stuff jumbo shrimp with lump crab, mix with various spices and wrap it with thick, smoked bacon. Then dress it with a preserved lemon and a Romesco butter, served with blistered heirloom cherry tomatoes, micro-greens, and julienne carrots. This was a first for me, but it will not be the last. It was packed with flavor and acted as my "turf" as an appetizer since I didn't order any to accompany my meal, was just right.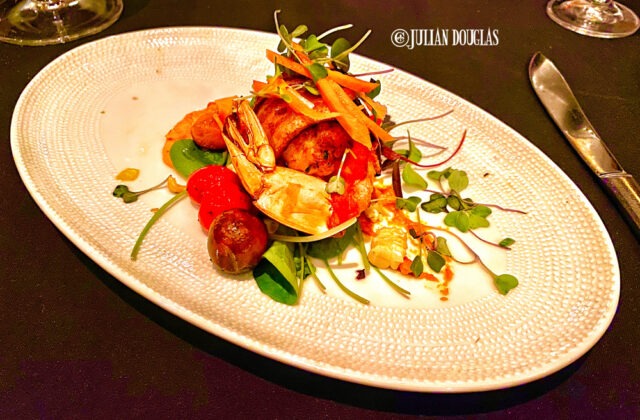 Now, back to the steak, I chose. After consulting with my server, I had my winner. The Bone-In Bison Ribeye. This is a 24-ounce behemoth. Granted, some of that is the weight of the bone, but there is a huge amount of our meat here. Now, those not familiar with Bison, or Buffalo, this is rich, tender, lean red meat. Though you will lose just a drop in marbling, you lose nothing in taste that the fat running through from that usually brings. Just like a Filet Mignon. You may not have fat running through, but it is filled with flavor.
This cut is a superior one as well. Once it arrives, the golden, melting butter running over it, and the Bison's deep red color just invites you in. Let alone, the smell will have you salivating before you even cut in. And cutting in is with ease. The expression, cuts like butter, well it does, as it is that tender. The taste continues the experience let me tell you. This is a hearty meal. In fact, one of the only times I did not even order a side to go with it, knowing what I had to conquer. The steak was truly phenomenal, and I completely suggest it if you have never had Bison. Especially for the fact, it is one of the more reasonably priced steaks on their menu for being a bone-in steak.
As far as Nicole, if you are wondering what she had for dinner, well, she went with her go-to dish, "The Works." A Baked Potato on steroids. Don't worry, it's an all-natural Idaho, gargantuan spud. Normally, they would wheel out a toppings cart, split it open for you, and prepare it to order as you like. But in the spirit of safety, they now ask what you would like, prepare it in the kitchen and bring it out to you. A meal in itself, but sadly I didn't take a picture since I get a kick out of all the choices on the cart, not what my wife chooses.
Finally, it was time for dessert, and as I mentioned prior, we always get the same thing, and for good reason. Their signature and award-winning Cast Iron Carrot Cake. Quarantine was not kind to my choice in eating habits, and I have been good of late, but moments like this, the diet goes out the window. This is the type of dessert that if you just come to the casino, you should see if you can get a seat at the bar, and order a drink, just so you can try this. Once it comes out in the searing hot, cast-iron skillet, the essence hits your nose. Then the site of the Vanilla Ice Cream, covered in Salted Caramel, Vanilla Vodka Cream Cheese, and Candied Pecans, starts to slowly melt over the warm, moist, home-made cake, then you cut around the side of the caramelized edges taking your first bite. You will understand why we order this each and every time.
I have to stress what a truly wonderful experience this was returning to The Steakhouse, but more importantly, understanding what a rare experience it is these days by having a 5 Star meal indoors. Not just the food mind you, but the dining, sitting down, inside, in a beautiful and safe location. Being served as always by such a knowledgeable and attentive staff, but also a safe staff. Remember, that goes for not only the restaurant but the entire casino.
So, if you live in the desert area, you are fortunate to have this available all the time. But, if you are within an hour's drive, call and make a reservation for dinner, or even Sunday Brunch. It is easily worth the trip. Speaking of trips, now more than anytime, we all need a break it seems. So, maybe even plan an overnight one. Come out and enjoy the Waters Cafe for lunch, soak up some sun, then on to The Steakhouse for dinner, and hit the casino after. Stay the night at the hotel and enjoy more of what Agua Caliente has to offer.
I personally plan to do this myself, and when I do, I look forward to giving you all even more insight and reviews of what Agua Caliente has to offer, with the hotel, the casino, the Waters Cafe, and more, and especially what they are continually doing for each of you.
Thank you to the Agua Caliente for doing indoor dining and to Otto the General Manager, who is always running an incredible restaurant, and to the entire staff at the resort and casino. Lastly, here's the link from our first visits to The Steakhouse if you would like to hear and see about more incredible dishes there… https://listenjourneysavor.com/the-steakhouse-at-agua-caliente-a-steak-oasis-in-the-desert/
The Steakhouse at Agua Caliente Resort Casino Spa Rancho Mirage
32-250 Bob Hope Drive, Rancho Mirage, CA 92270
888-999-1995
www.Facebook.com/AguaCalienteRM
www.Instagram.com/AguaCalienteCasinos
www.Twitter.com/AguaCalienteRM