BREAKFAST AT BRENNAN'S – A New Orleans Tradition.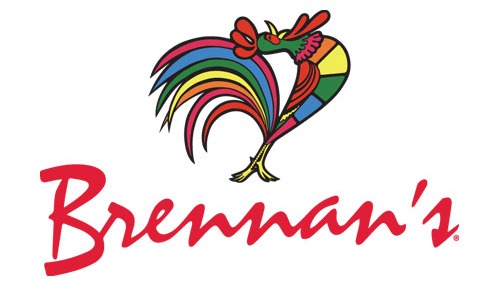 Can you be a part of history, simply by enjoying a meal? You certainly can when you have Breakfast At Brennan's in New Orleans.
Brennan's is celebrating their 75th Anniversary this year and have placed their mark on NOLA cuisine since year one. Ironically, what is now known as Brunch, to most in the know, is a derivative of Breakfast At Brennan's. So, to many, the term Brunch although was not "invented" here, it was, however, cultivated here.
Think about that. Brunch is celebrated worldwide, daily and especially on Sundays. And, we have Brennan's to thank. Yet, it's blasphemous to use the word Brunch there. When it comes to Brennan's, they serve breakfast, and more specifically as mentioned, it's famously called Breakfast At Brennan's.
Everything is historic about Brennan's. Take the building it's in, which dates back to 1795. Think about that while enjoying breakfast in their beautiful courtyard. And how long has Brennan's been in this location? Since 1946. Yes, if you just did the math, right now, they're celebrating their 75th Anniversary.
Just arriving is something special. You can't miss it. Everyone knows the stunning, iconic pink building, green awning, and brass Brennan's script on the wall. It's even more inviting inside. Between the countless themed dining rooms, the previously mentioned courtyard, their player piano to their famous bar, your eating and drinking experience is wonderfully enchanted with such ambiance.
But I'm here to tell you about the food. Next visit, and yes, next trip soon enough, to the Crescent City, we'll be back, and I'll photograph more of the decor, and write more about the actual history and owner Ralph Brennan. But this time I want to mention our meal. After all, for decades coming to New Orleans, we had never managed to get reservations for Breakfast At Brennan's, but this recent trip we finally did.
As a Bloody Mary judge, and judging a few festivals here in town, I had been waiting to try their Cajun Bloody Mary. It was everything I hoped for. Their house-made mix is simple, yet complex, packed with rich local flavor that screams the South with just the right spice. Plus, I love pickled beans and okra, and their's adds to it.
Nicole, the coffee drinker, is in Heaven in The Big Easy. She loves the local blends of chicory and dark roasts. Brennan's French pressed, classic New Orleans Style Coffee was on point for her.
Brennan's is known for many signature dishes, especially their flawlessly cooked eggs. So my wife and I both went with two of their most sought-after dishes. Myself, I went with the Eggs Hussarde; an Eggs Benedict with a luxurious twist, adding a Marchand De Vin sauce. This equisite sauce is a veal stock and wine reduction with sautéed mushrooms, shallots, onions, and garlic which accompanies those perfectly poached eggs that sit on top of butter-grilled house-made English muffins, thinly sliced coffee cured Canadian bacon, and of course, that luscious Hollandaise sauce. If that wasn't enough, I even added a side of Nueske's thick-cut bacon.
For Nicole, she had to go down that historic path, choosing one of Brennan's most iconic dishes, their Eggs Sardou. Perfect for her vegetarian ways, those amazing poached eggs are placed upon crispy artichokes and a bed of Parmesan creamed spinach, then covered in a Choron sauce, which is a tomato spiked Hollandaise sauce.
If that wasn't enough indulgent food, which being in New Orleans never is, we had to share an order of their cheddar grits and a buttermilk biscuit. It's Brennan's after all, so incredibly smooth, rich grits can't stand alone, they had to add cheddar cheese blended in. Which complimented that humongous, fluffy, and flaky biscuit. Sadly, we were stuffed… so much so that we couldn't indulge in what Brennan's invented; my favorite all-time dessert, Bananas Foster. Just another reason we can't wait to be back.
This entire meal was stupendous. From the moment we walked in, the impeccable service throughout our meal was on another level. Oh, and did I mention the complimentary champagne they brought out at the end of our meal wishing us a Happy Anniversary?
Lastly, after finishing our Breakfast, we headed to the fountain to say hello to "The Muthas and the Othas", Brennan's famous banana green-leaf Turtles. You can't come here and not see them in the courtyard. It's basically a right of passage of taking in the whole Brennan's experience after all.
In conclusion, was it worth the wait, all these decades to finally come here? Unbelievably so! In fact, we're back in NOLA in less than a couple of months and we'll be returning with anticipation. Get ready for more delicious reviews and the history of this legendary restaurant. Until then, we thank all the wonderful staff at Brennan's, and hope you too will make your way there when you're in town.
BRENNAN'S
417 Royal Street
New Orleans, LA 70130
504-525-9711
www.BrennansNewOrleans.com
www.Facebook.com/BrennansNewOrleans
www.Instagram.com/BrennansNOLA
www.Twitter.com/BrennansNOLA